3 Homes That Embrace The Burgeoning Wicker Trend
24

Apr

'23

9:21 am

by

Sneha Shah
Truly exemplifying the Indian modern aesthetic, wicker is an all time classic. Rattan, the natural material that is woven into wicker, was once particularly favoured in the tropics and is now reviving its reputation as a stylish staple across the realm of design. In addition to being lightweight, the popularity of this material is also driven by its sustainability, making it a greener option for designers and homeowners. In our latest edit, we bring you three homes with chic inclusions of wicker across varied aesthetics –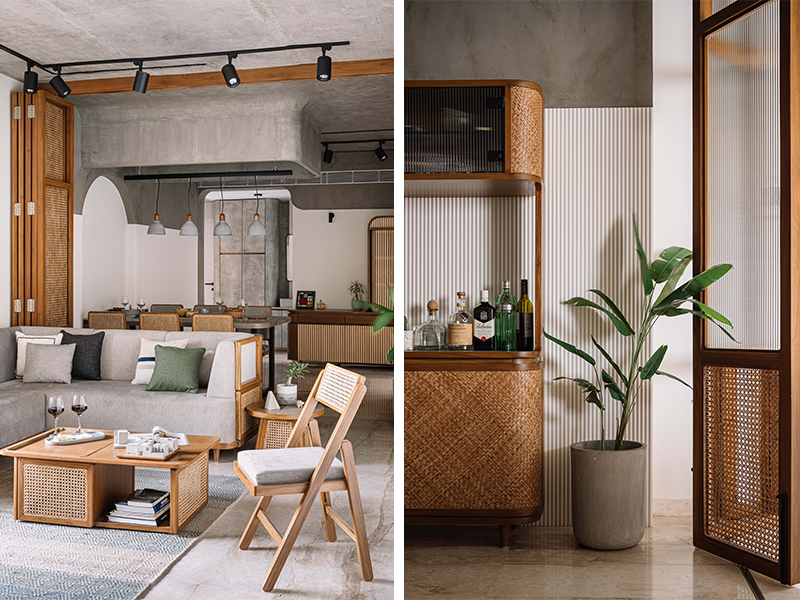 #1 Curves, Concrete And Lines, Ahmedabad
This unique residence in Ahmedabad is an amalgamation of Curves, Concrete, and Lines designed by Bombay-based studio Jetsons; the three elements are repeated throughout the house in various mediums in terms of material palettes, texture, edges and finishes. The curves replace the perpendicular edges with rounded surfaces, while the concrete finish by Artocrete is the base material in different forms that ties the house together; the repeating line detail is another binding element throughout the house. Going beyond conventions by pairing rattan with concrete, wicker furniture here takes centre stage optimising functionality with aesthetics. With the ability to bend and curve, wicker potential has been fully explored in the design.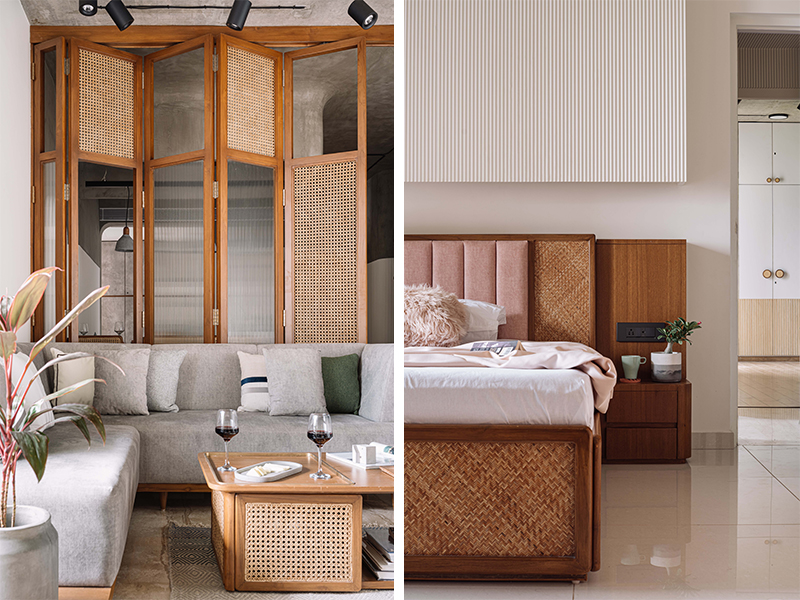 Concrete, cane and wood are used on the ceilings, walls and furniture pieces all customised by Jetsons, to show the relation of materials in various forms. The wicker-infused sliding-folding partition screen in the living area is the highlight of the house; it separates the living and dining space into two sections when needed and is made in fluted glass, teak wood and cane. The clay lamps that adorn the tables of the living room are sourced from Harshita Jhamtani Designs while the concrete hanging lights are from Gomaads.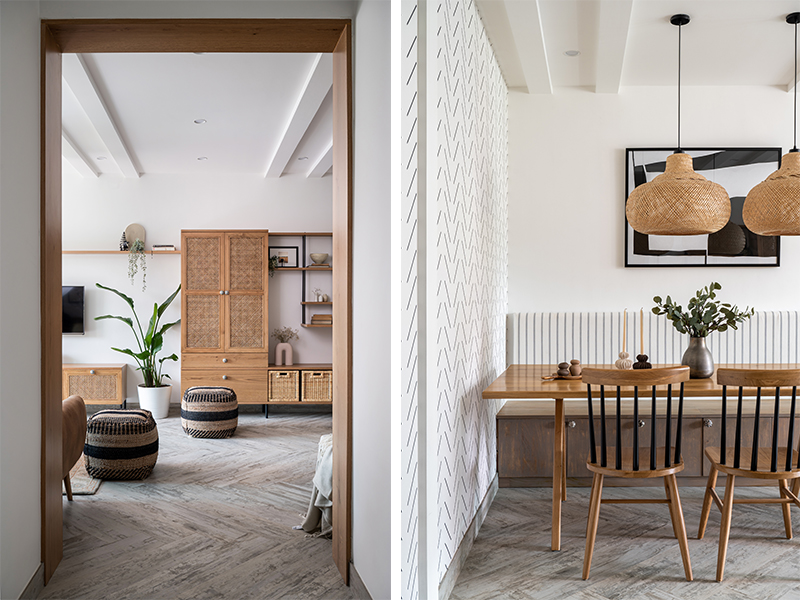 #2 Shades Of Spring, Bangalore
Centred around an immaculate experience, The Design Collaborative has created a vacation home bursting with prints, patterns and textures. This 1100 square feet house marries modern interiors with lively bohemian décor, with a fitting selection of furniture and a minimal colour palette. The living room and dining area furniture have been conscripted in shades of brown – rustic wooden floor tiles, a rattan-panelled television console, a hand-tufted rug from Jaipur Rugs and poufs made of jute, distressed oak wood table and chairs from Seven Pillars, and cane hanging lights from Claymango. The golden-brown shade of wicker brightens up this space almost instantly and conveys a feeling of tropical paradise. The timeless texture lends an earthy ease, reappearing in chic styles throughout the home.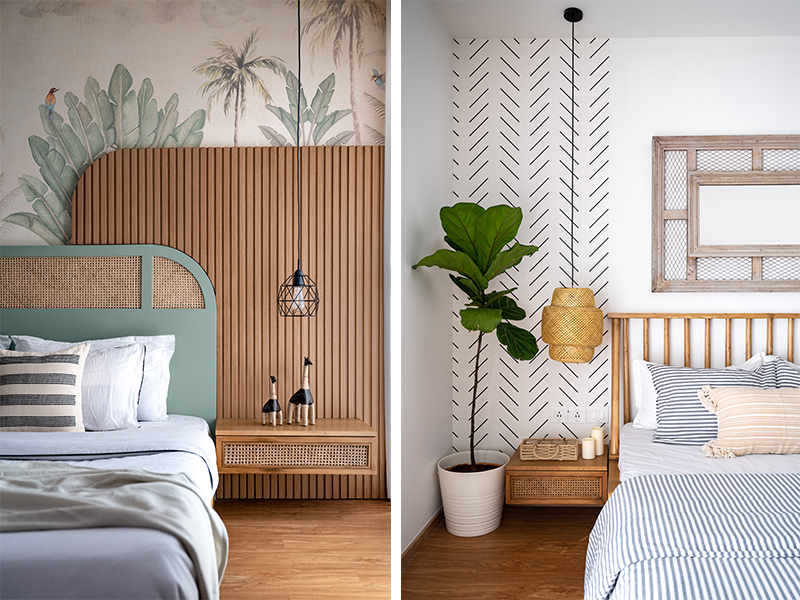 The bedrooms draw inspiration from the couple's inclination towards rustic and tropical themes. There are shades of green infused with wicker and nature-inspired eclectic wallpaper from House of Ikari, to create an inviting space to unwind. Additionally, wardrobes are finished in green lacquer with sandwiched rattan panels that exude a breezy and chic vibe. The overall mood board makes for a charming and resplendent home.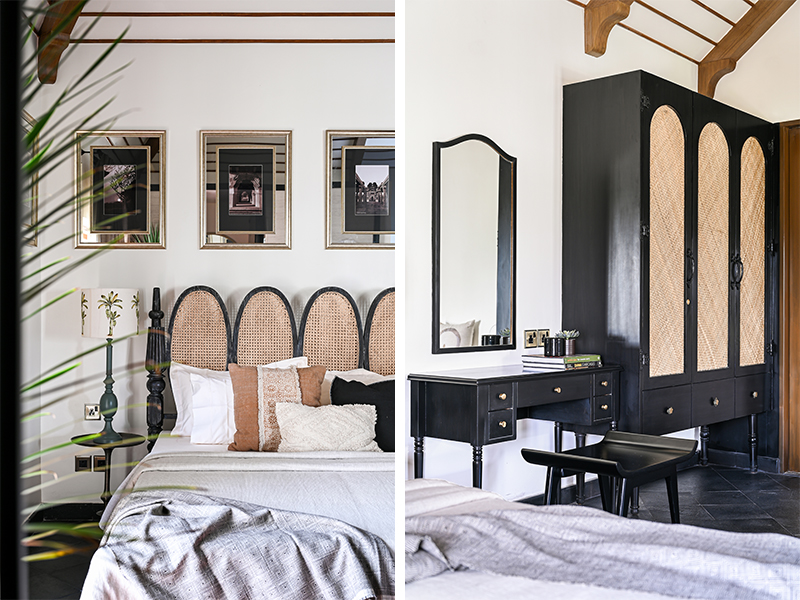 #3 The Gable Home, Bangalore
Set in a quaint part of Bangalore, pockets in this 10-year-old villa are reimagined by Studio Ruh; rooted in a design flair that celebrates volumes and the simplicity of natural materials. Kota floors, slate on the walls, black metal accents, and the warm touch of wicker add to the much-appreciated dynamism of this space. The furniture is all sourced in wood, stained in hues of blacks and browns. Hints of cane, plaster, silk and mirrors make their appearance to bring in more layers & depth to this home.
The guest bedroom has impeccable attention to detail through a statement rattan bed and wardrobe, against the contrast of black; with a beautiful Kolum rug from Jaipur Rugs that adorns the black slate floors. The master bedroom is maximised on view and ample natural light with furniture crafted from Magari.
Also Read: Three Contemporary Mumbai Homes That Champion A Neutral Colour Palette