10 Things To Know About Gender-Neutral Nurseries – With Anusha Nanavati And Garima Agarwal
31

Jan

'23

10:10 am

by

Sneha Shah
With the popularity of minimalist décor themes and unconventional colour schemes, a growing number of parents are now opting for gender-neutral baby rooms, breaking free from the archaic tradition of a gender-specific approach. Brands and designers are offering design solutions that are both fluid and adaptable, and equal parts chic and playful. For this piece, we reached out to two notable industry experts for their insights on gender-neutral nurseries.
Anusha Nanavati is the founder, lead architect, and interior designer at Anusha Nanavati Design Studio (AND Studio). Her studio specializes in various commercial and residential projects including baby nurseries; she recently designed a nursery for Sonam Kapoor Ahuja and Anand Ahuja's son Vayu who was born last August.
Garima Agarwal founded Peekaboo Patterns back in 2005 and subsequently launched Peekaboo Interiors in 2021, India's first exclusive 'Show Home for Kids'. It offers ready-to-pick furniture, furnishing, and accessories, along with turnkey interior projects for kids' spaces.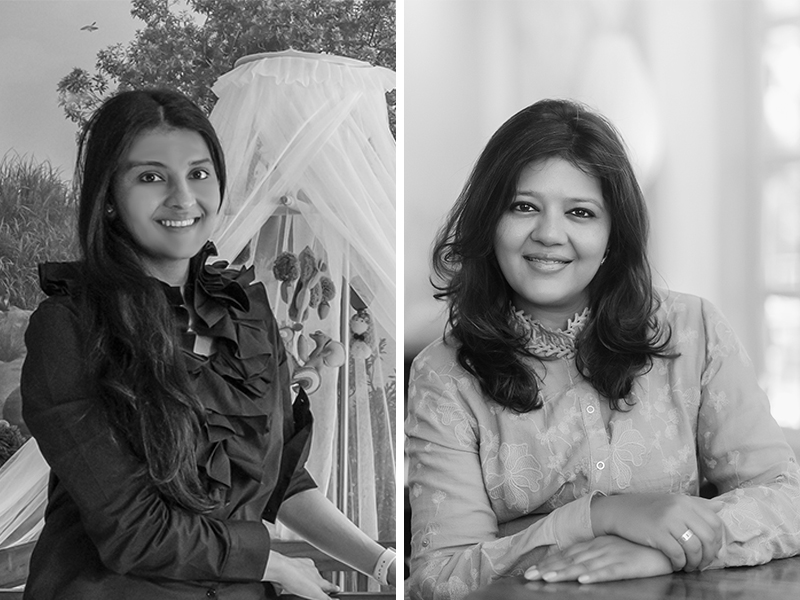 #1 How would you describe gender-neutral aesthetics? What does gender-neutral design mean to you?
Anusha Nanavati – Modern and versatile, neutral nurseries have never been chicer. Gone are the days of pink and blues; today's gender neutral is clean, bright, bold and beautiful, boasting a winning combo of Boho charm and Scandinavian-inspired practicality. 
Garima Agarwal – Neutral means not showing any strong qualities, emotions or colour. Almost all colours can be used in nursery projects – the so-called neutrals like greys, beige and ecru.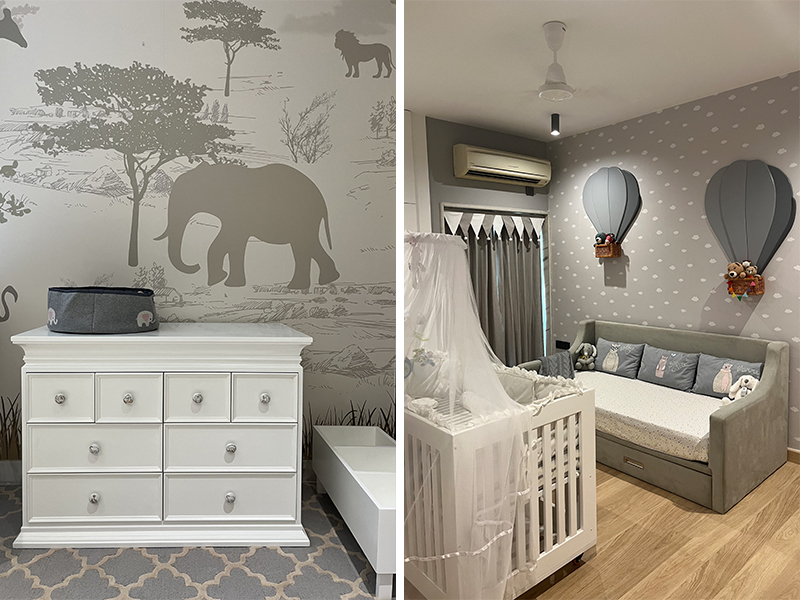 #2 What are the latest trends for a gender-neutral nursery? 
Anusha Nanavati – You can completely go with Scandinavian style minimalism where the furniture and flooring are in pale wood and white; soft shades of beige and white on the walls and drapes with very muted wallpaper provides a very soothing space. Different themes include a safari-themed nursery, where the walls and ceilings are covered with a bold black and white safari-themed wallpaper which compliments the warm brown of the teak wood and cane furniture, making the nursery feel both timeless and modern.
Garima Agarwal – Hot air balloons among clouds, stars and the moon, animals and most nature-inspired themes have been on top of the popularity chart for a while. Flora and fauna murals especially the tropical gardens have become a new parent's all-time favourite. 
#3 What kind of interactive spaces would you recommend within a gender-neutral nursery?
Anusha Nanavati – It is important to add interactive and playful wallpapers, and storage areas with open and accessible shelves and baskets to allow the kids to eventually play independently.
Garima Agarwal – Low-level reading nooks with soft, cosy materials that are accessible for crawling babies.  Mirrors aid in self-discovery and often seem to amuse babies engaging them eventually to pretend to play or dress up. And, of course, one can never go wrong with playful swings, slides and ball pits.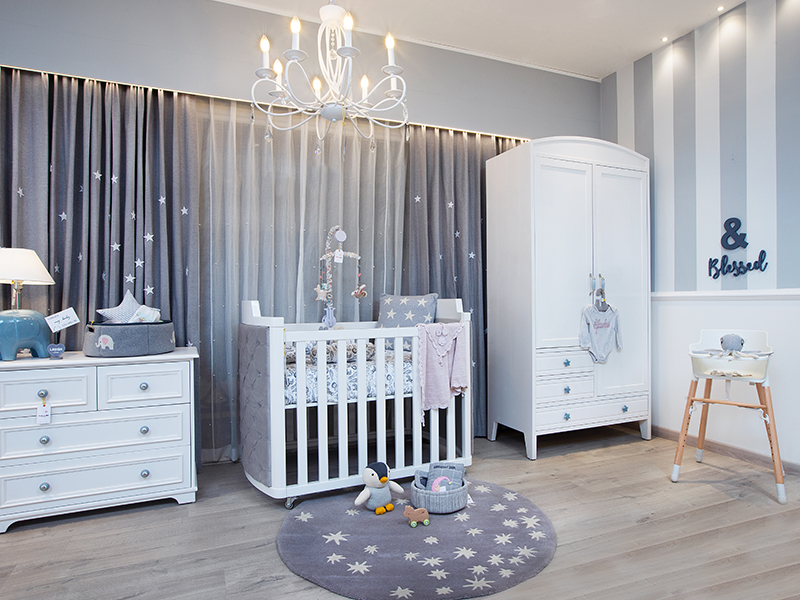 #4 Could you share tips on styling a gender-neutral nursery with décor accessories and accents? What are your go-to brands for the same?
Anusha Nanavati – Choose wallpapers that bring some character and make the space more interactive and playful for the kid. I love wallpapers from Wallpaper Scissors, Degournay and Pierre Frey.
Creating a layered look by adding throws, cushions, curtains, rugs, baskets, shelves and accent lighting can really enhance the space. Pottery Barn, Kaji Kids, Masilo, Cocoon Rugs, Humming Haus, and Rugberry have some great stuff. 
Garima Agarwal – Items like rugs, wallpaper, throws, cushions etc are styled to give any space a definition. We get hand-woven natural fibre baskets that can be used as toy bins or a planter from Quilt Avenue. Little Looms for fun rugs, Zoo Keeper for animal-themed decor things, besides our in-house cushions and bedding.
Also Read: 10 Things You Need To Know About Being A Plant Parent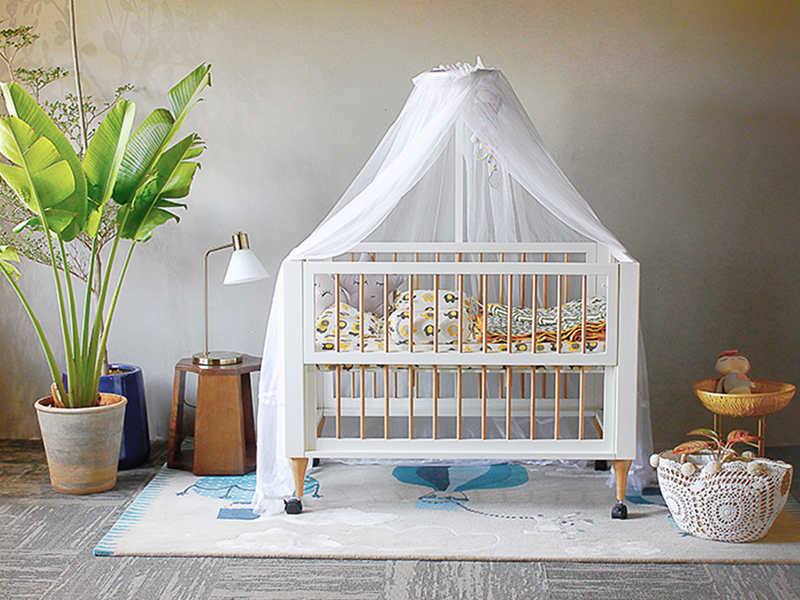 #5 What are the best indoor plants for a nursery?
Anusha Nanavati – You can go with Spider plants or Areca palm. But it is important to ensure that the plants used should be non-toxic to children and placed a little out of reach for safety. 
Garima Agarwal – Succulents are cute and easy to take care of. Snake and Spider plants are air-purifying and easily available. Additionally, add a terrarium to bring in the green impact.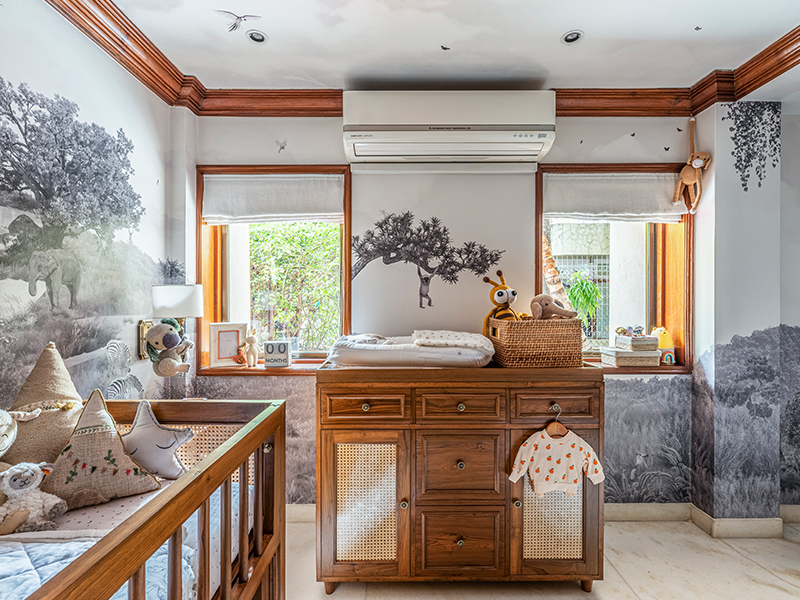 #6 What is your advice on furniture, storage and dresser organizer for a neutral nursery? Additionally, what are the best materials to use?
Anusha Nanavati – Invest in furniture that's well made, sturdy, child friendly, and that can grow with the baby. For example, a changing station can eventually be converted to a chest of drawers which can be used for storage for any age or can also be shifted to another space in the house.
Garima Agarwal – Monochromatic, minimalistic surface design, theme furniture is ideal as children don't easily outgrow them. When planning built-to-grow furniture one may design a changing station that eventually can become a dressing table. Cribs are also available that turn into toddler beds.
#7 Where can you source soft furnishings for a gender-neutral nursery?
Anusha Nanavati – Most of the stores have gender-neutral soft furnishings available. Masilo, Bharat Furnishings, De Décor, Pottery Barn Kids, Little White Company, Crate and Barrel, Mother Care.
Garima Agarwal – For prints and patterns we like the quality of upholstery from – The Pure Concept Home.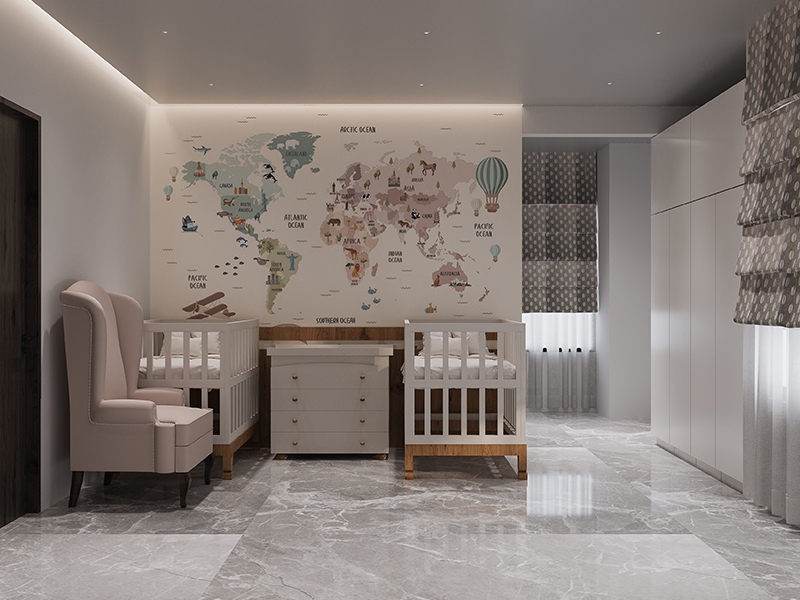 #8 What are your tips on achieving the perfect lighting for a neutral nursery?
Anusha Nanavati – Incorporating both artificial and natural light will add vibrancy to the room! A soft night light will prevent you from stumbling around in the dark during those nighttime feeds and a small reading lamp will make bedtime stories much easier to read. 
Garima Agarwal – Some children fear the dark so mood lighting for night sleep works. Some babies need a pitch-dark room to sleep and here a blackout lining to curtains is a must. One handy tip would be to have an automated movement sensory light for the bathroom that takes care of the loo visits at night. 
#9 What are the common design mistakes new parents make and could you share tips on how to avoid them?
Anusha Nanavati – Your baby's nursery is not just a space for them to sleep, it is also a place for parents to relax and unwind. So, when picking out nursery furniture, incorporate a comfortable chair or seating area to rest when feeding or soothing your baby. 
Garima Agarwal – The biggest mistakes noticed over the years has been the choice of colours and overcrowding.  Also, using themes on wardrobes and bed headboards is a big no-no as they outgrow them in no time. A smart way would be to add any motifs/patterns or themes in the furnishings and accessories to bring playfulness.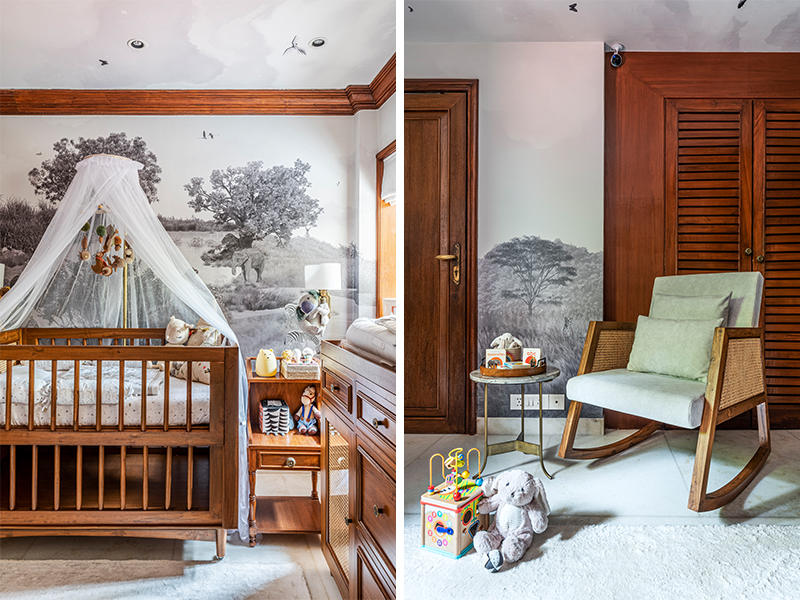 #10 What are some of the nursery must-haves to invest in?
Anusha Nanavati – A crib, lots of storage: wardrobe, changing station, and a nursing chair with a footstool. If there is space then one can also put a sofa cum bed for the parent to rest on; storage organisers are very important to make your life easy. In soft furnishings – throws, curtains and cushions.
Garima Agarwal – A comfortable crib, wooden flooring and adequate storage so all the knick-knacks are neatly tucked in making the nursery look like a dream!
Also Read:  Three Contemporary Mumbai Homes That Champion A Neutral Colour Palette