New In Mumbai : Virat Kohli's Newest Restaurant, A Pisco Bar In The Sky, And More
20

Oct

'22

1:52 pm

by

Crew
Our roundup of Mumbai's newest restaurants includes an expansive sun lounge-inspired space, a Pisco and Peruvian bar on the 37th floor of St Regis, a culture-forward Spanish establishment, an outpost of an iconic Delhi bar, and a restaurant by cricketer Virat Kohli. Read on to know more!
1. One8 Commune, Juhu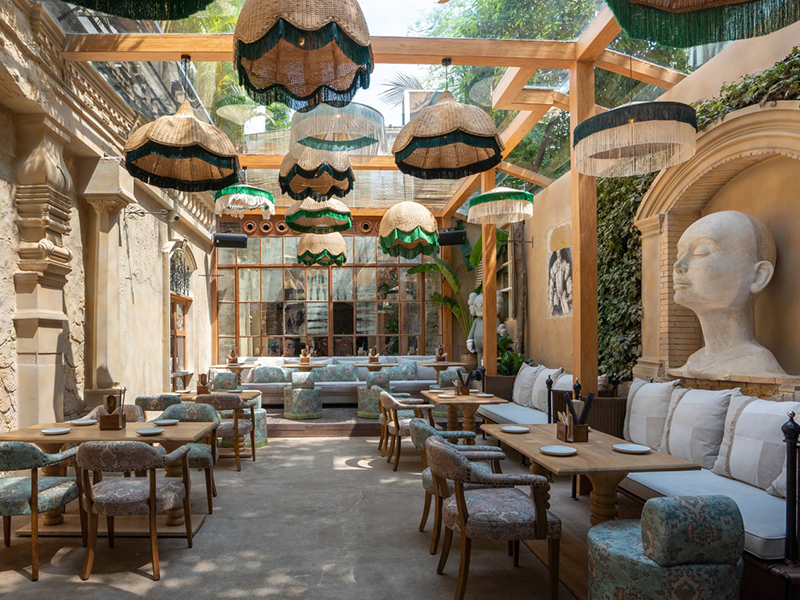 Cricketer Virat Kohli's restaurant chain One8Commune opens its doors at the iconic Kishore Kumar bungalow in Juhu. Celebrating the humanism that being in the 'commune' implies, the restaurant is designed by Minal Chopra as a homely yet elegant space that acknowledges the multicultural spirit of Mumbai. From fringed wicker lights to pop culture-inspired art, a sense of eclecticism runs through the indoor and outdoor spaces at One8Commune.
"We wanted to create a space that is fluid and free-spirited, one that instantly creates a sense of belongingness and lasting memories," says Vartik Tihara, co-founder of True Palate Pvt. Ltd. Adding to this, Virat Kohli comments, "Our main focus was to experiment with all sorts of greens & grains and turn them into dishes that are not only healthy and light but also packed with bold flavours." From the location to the culinary offerings, One8Commune ultimately aims to do justice to "arguably India's most dynamic and thriving cosmopolitan crowd," according to Tihara.
2. The Conservatory, Juhu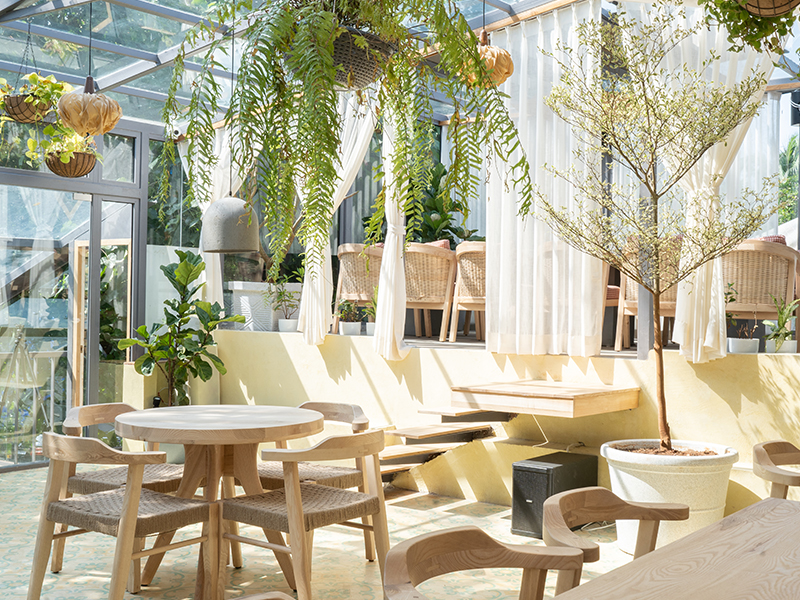 Bathed in natural light and filled with lush greens, The Conservatory is exactly what the name suggests. This striking sunlit space blurs the lines between the indoors and outdoors with its greenhouse-esque aesthetic. Located in Juhu, The Conservatory is established by restauranter Suren Joshi – the founder of Joshi House in Bandra.
Earth tones, natural materials, and light woods add to the expansiveness of the restaurant – a conscious decision by the interior design duo at Studio 6158. Mushroom-shaped bespoke light installations and ceiling-suspended planters further tie into the 'natural-interior' narrative. Spanning 22 feet, an extensive exposed stone bar seamlessly blends into the plant kingdom. The concrete brutalist facade, however, serves as an interesting contrast to the soft, almost boho sensibility that runs through the interior.
Also Read : New In Delhi : Your Design Guide To The City's Latest Restaurants
3. Koi Bar, St Regis, Lower Parel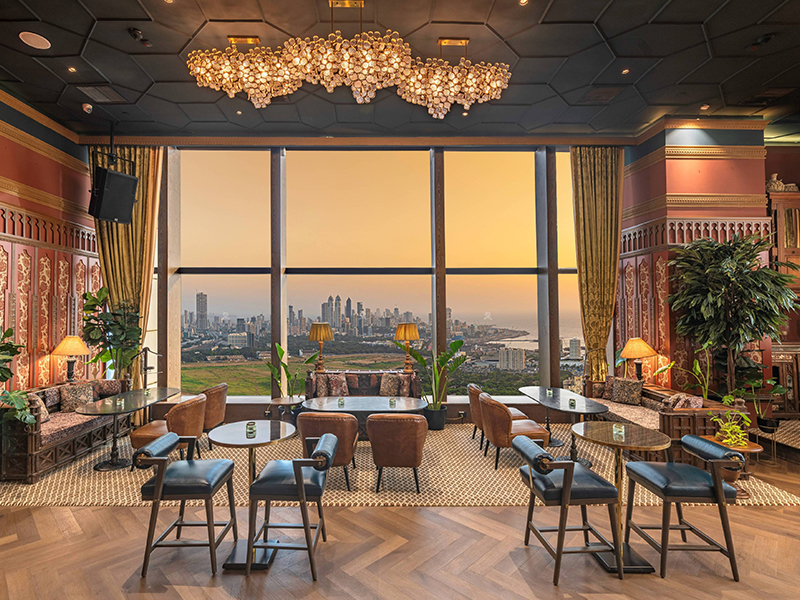 Perched on the 37th floor of St Regis, Koi Bar is a place for all things Pisco and Peruvian – taking inspiration from a unique blend of Latin American and Asian flavors, ingredients and culture. The bar's Japanese-Peruvian interiors are a luxury take on the classic bodega that harkens a bygone era. From tobacco and rust coloured hand-printed linen wall paneling to heritage green ceiling enamel, the colour scheme nods to pre-war colonial influences of Lima and to the ancient Inca culture that predates it. In addition to this, authentic Peruvian ormolu mirrors dot the walls and handcrafted leather parchment urns accentuate the alcoves. Commanding magnificent views of the city, Koi Bar boasts a timeless appeal while offering an escape into two distinctly unique cultures.
4. Ditas, Lower Parel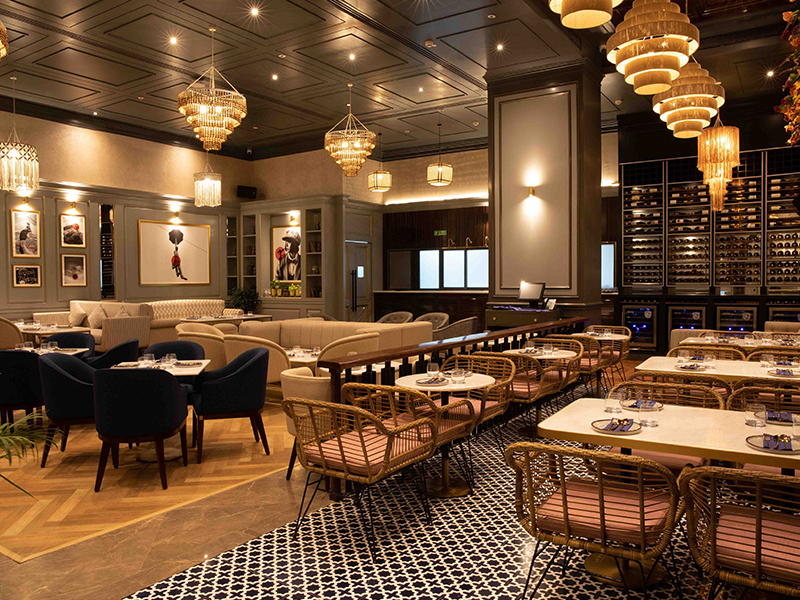 Already a Delhi-favourite, Ditas opens its doors in Mumbai, providing an amalgamation of luxury and simplicity in the world of culinary art. Featuring an Art Nouveau-style interior, the restobar's offerings include a range of international flavours from the Spanish, Mediterranean, European and a dash of Pan Asian food. This global culinary sensibility was a deliberate choice; for co-founders Udita and Utsav Khaitan, Ditas is ultimately an ode to traveling across the world. The interior is divided into two areas – starting with a long-running patio with wicker and cane chairs, and patterned tiles, and leading into the main space that features a state-of-the-art bar with a high mirrored arch display. Moroccan blue tiles serve as an homage to their Delhi interiors, complemented by mid-century furniture and a Soho living room style seating.
5. La Loca Maria, Bandra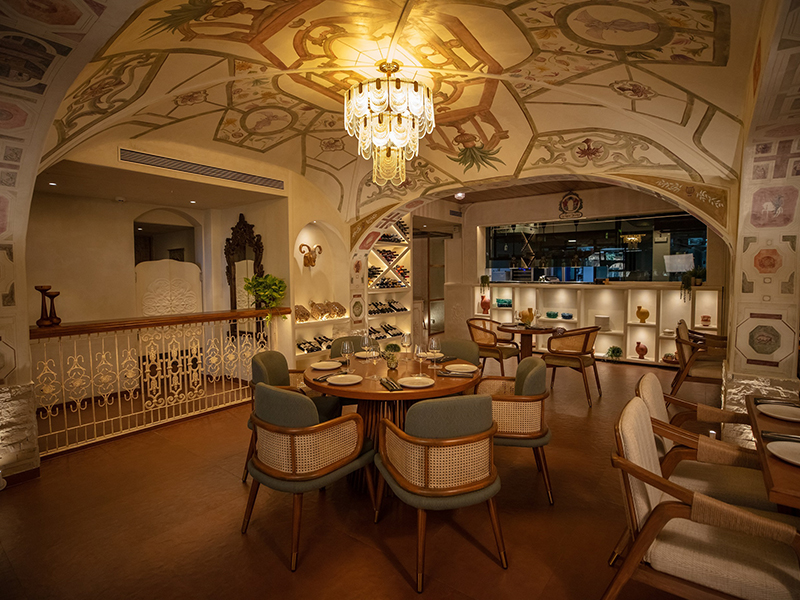 La Loca Maria's new location at Pali Hill promises an immersive experience. Its artfully conceptualized Spanish interiors and warm eclectic aesthetics seem straight out of a quaint European town – complete with beige textured walls, ornate mirrors, a tapestry cladded bar façade, and a refined selection of pottery. In fact, the 75 seater restaurant helmed by Chef Manuel Olveira & his wife Mickee Tuljapurkar, takes influences from Chef Manuel's home – the UNESCO heritage city of Toledo in Spain.
La Loca Maria was designed by Minal Chopra who worked closely with the founder Mickee Tuljapurkar. "Our idea was to create a restaurant space which was not "explicitly" Spanish but an interpretation of Spanish architecture, says Tuljapukar. The vibe of the restaurant is simultaneously high end and entirely casual. The restaurant is arranged so that almost every table has a view of the buzzing kitchen, positioned in the center of the restaurant." Adding to the culture-forward narrative, murals by Za works illustrating the Spanish culture adorn the natural stone cladded arches and impressive dome, from which hangs an Art Deco chandelier that sets the mood of the restaurant.
Also Read : An Unforgettable Royal Experience At Jaipur's Iconic City Palace In Collaboration With Airbnb