The Ultimate Diwali Table Gifting Guide For 2023 Is Here
31

Oct

'23

12:23 pm

by

Tanvee Abhyankar
With the festival of lights, Diwali, just around the corner, it's not only the lamps and candles that should illuminate your celebrations. Your table settings can be just as vital in setting the stage for a warm and inviting ambiance that will leave your guests in awe. Whether you're hosting a grand feast or a cosy get-together, selecting the perfect tableware can reflect a touch of elegance and thoughtfulness to your Diwali celebrations. In this gifting guide, we'll explore a carefully curated list of Diwali table gifts that will elevate your festive decor and leave a lasting impression on your loved ones. From stylish tableware to artisanal accessories, these gifts will not only add sparkle to your table but also bring in a touch of luxury to your home.
#1 St. Germain Leather Box and Tray by Jonathan Adler, available at Opulin
Introducing the St. Germain leather-wrapped collection: a blend of timeless light blue shades and classic stitching. The box boasts three sleek brass ball handles and a leather-lined interior, offering a luxurious storage solution. Meanwhile, the tray features two brass rails with ball handles, adding modern elegance to your ottoman, cocktail table, or console.
#2 Cone Cake Stand by Objectry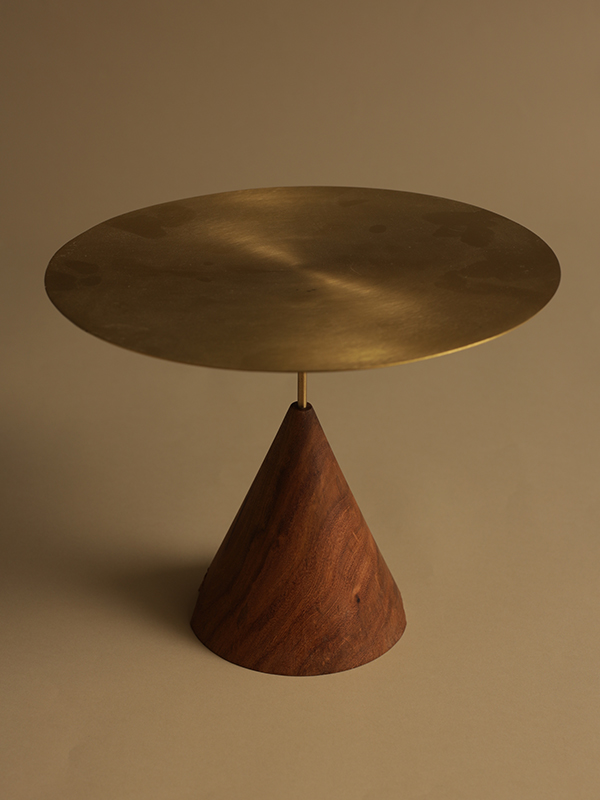 As festivities approach, this sleek cake stand is a delightful addition to any party. Its elevated matte brass top and perfect geometry serve desserts with elegance. Handcrafted from wood and detachable, it blends aesthetics and functionality with ease. 
#3 Decorative Brass Mouse by Gado Living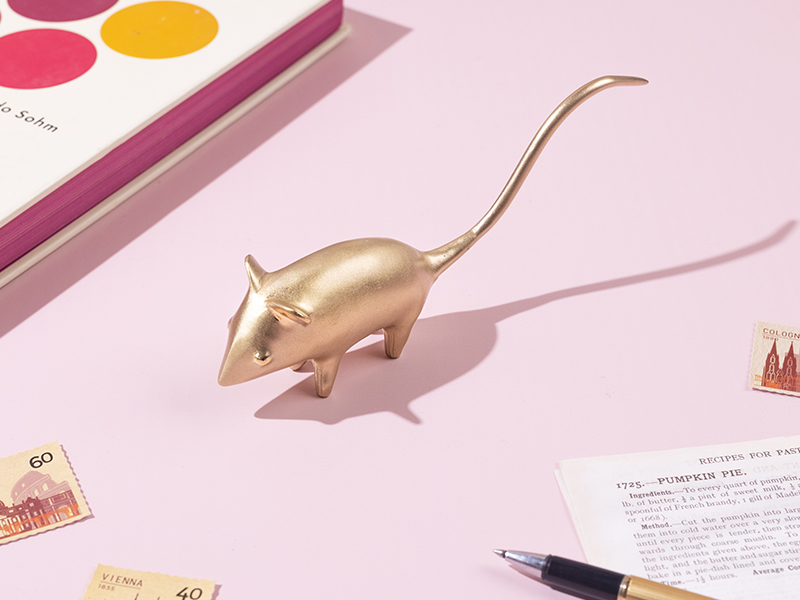 Discover the 'chooha' curio, the perfect gift for anything Indian. This handcrafted 'Decorative Brass Mouse' figurine, made in India, exudes elegance with its weighty brass and soft matte finish. Its intricate design ensures each piece is unique, while the enduring nature of brass guarantees it will charm your space for years.
#4 Soundarya Olive Botanical Garden Set by vVyom By Shuchita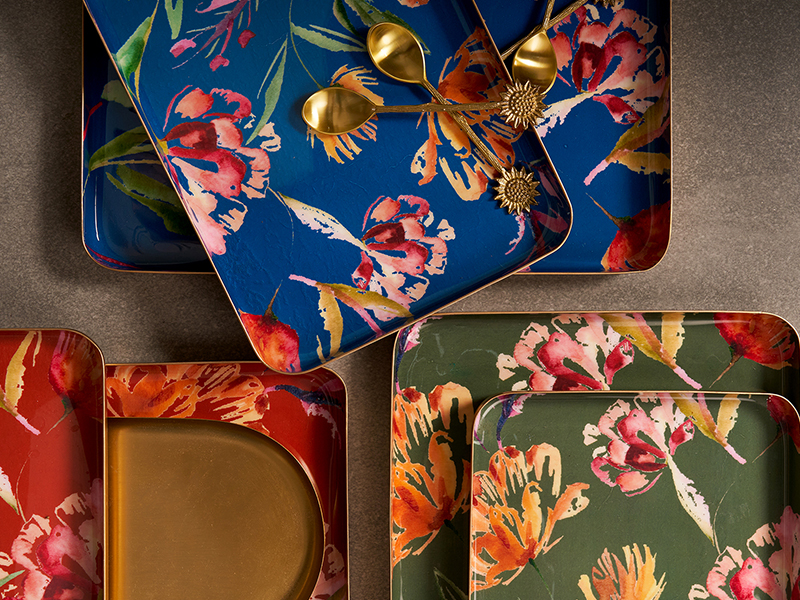 Enhance your dining and serving experience with the Soundarya Olive Botanical Garden Set of 2 aluminium multi utility trays in two sizes, featuring vVyom's signature prints. These eye-catching trays, adorned in their signature hand-painted designs, add a vibrant touch to your table. Whether you're a host who loves to impress or you're looking for the perfect gift, these trays are an ideal choice.
#5 DASARA Dinner Set by Kaunteya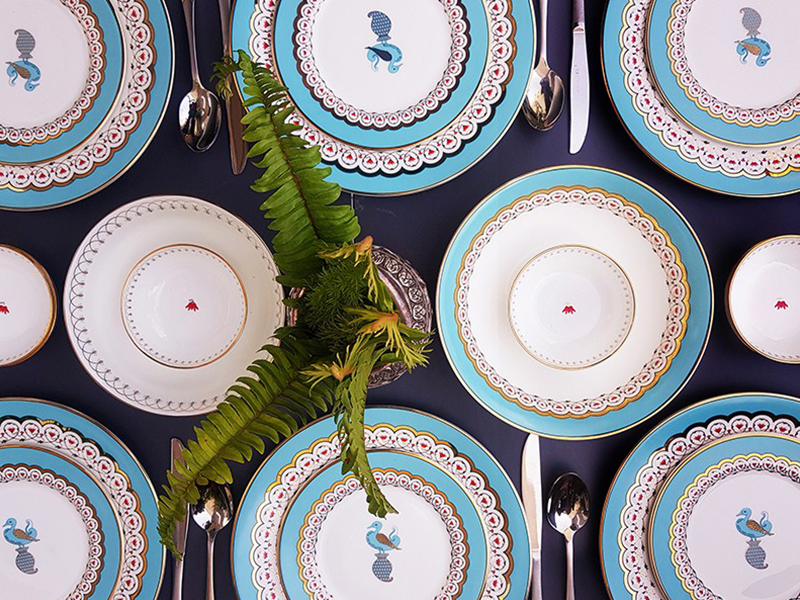 The 'Dasara Dinner Set,' made from fine bone china, showcases elegant turquoise blue and floral motifs inspired by the Mysore Palace's interiors, highlighted with 24-karat gold. Through three stages of firing and rigorous quality checks, these pieces achieve their evident impeccable finish. Rest assured, the colours and gold accents are food-safe for your dining pleasure.
#6 Seashells Beaded Table Mats by Eris Home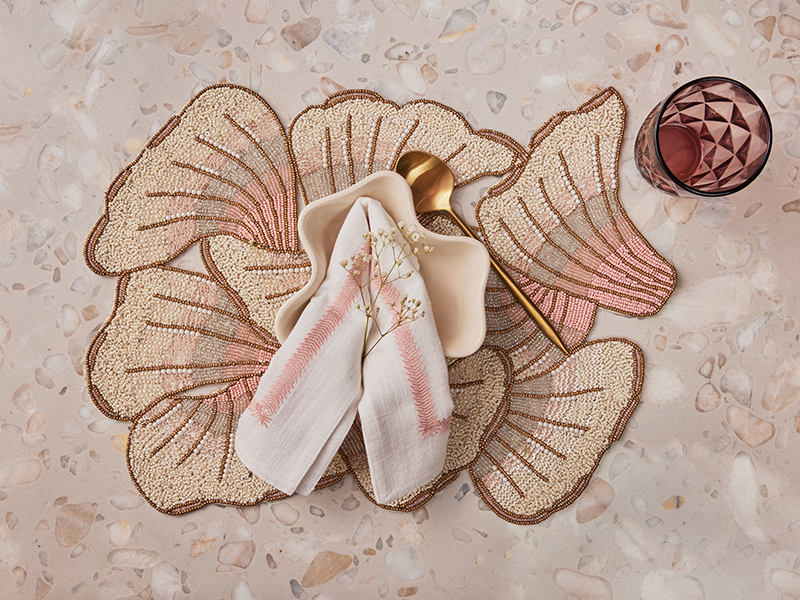 The  'Seashells' Collection by Eris Home, is inspired by the mesmerising aquatic life. With blush and aqua tones and intricate scallop detailing, these hand-beaded pieces boast an ombre effect and captivating texture through sequins, glass, and acrylic beads.
#7 Tie Dye Dinner Set by Kika Tableware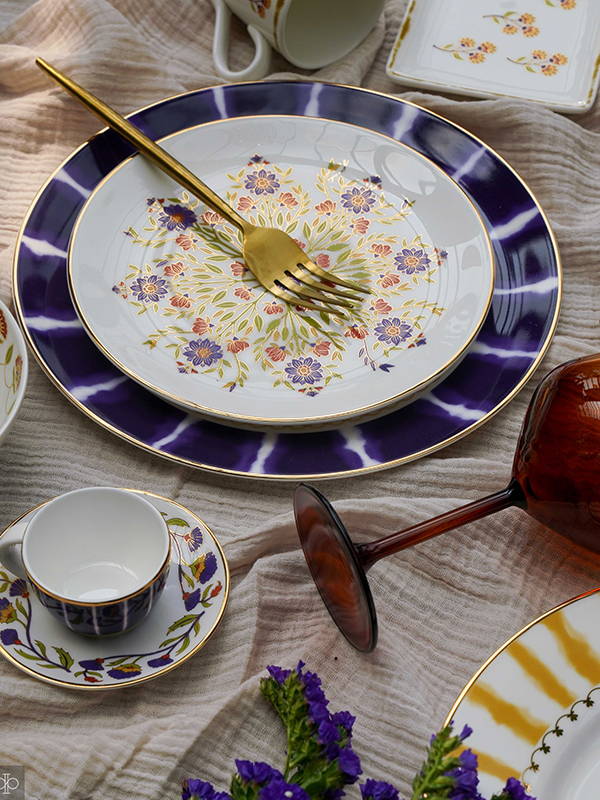 Indulge in the delicate details of 24k gold and vibrant colours that add elegance to any meal, making it ideal for special occasions. A classic design on Premium Bone China can be paired with other pieces from their dinnerware and serving collections, offering a luxurious dining experience.
Also Read: Actor And Interior Designer Neelam Kothari Soni Gives Us Her Top 5 Diwali Styling Tips