5 Cottage-Core Kitchens To Inspire Your Next Home Renovation
13

Jun

'23

3:58 pm

by

Nuriyah Johar
In an era of Artificial Intelligence, hypermodernity, and futurism, the yearning for a simpler, cozier lifestyle has sparked a phenomenon that has taken the design world by storm – Cottage-Core. Drawing inspiration from idyllic countryside dwellings and the rustic charm of a bygone era, Cottage-Core has emerged as a powerful trend, capturing the hearts of those seeking tranquility and a return to nature within their living spaces. With its emphasis on creating soulful spaces, the trend has found a perfect sanctuary in the heart of homes – the kitchen! Whether you're embarking on a complete overhaul or simply seeking to infuse a touch of countryside allure, our pick of kitchens will transport you to a realm where nature and nostalgia coexist in perfect harmony –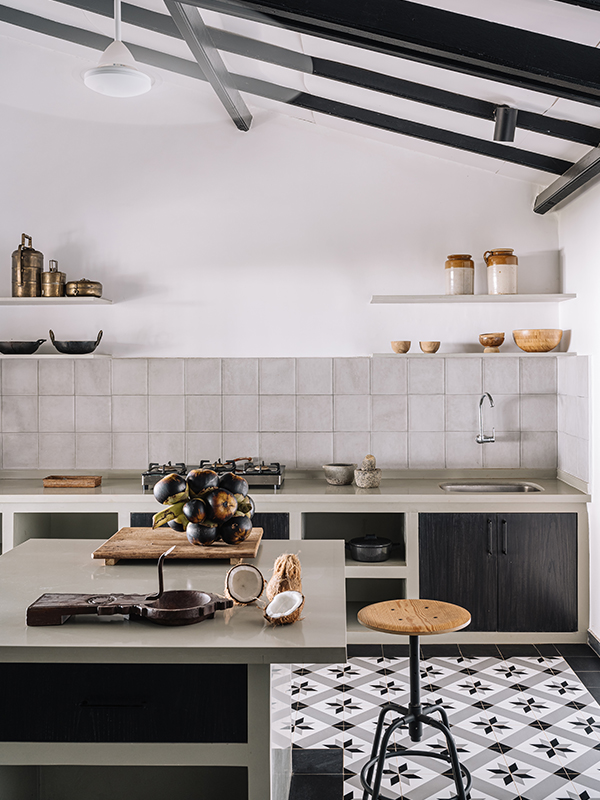 #1 Coastal Chic
Architect Amritha Karnakar, founder of Amritha Karnakar Architectural Design was tasked with renovating a beach house constructed 25 years ago in the coastal hamlet of Kelwa in Maharashtra. What ensued was the conversion of a two-bedroom residence into a three-bedroom holiday home with interrupted ocean views that truly epitomizes coastal chic-meets-traditional India. Karnakar designed the airy, expansive kitchen to truly reflect its beachside backdrop. A contemporary palette of gray and black was softened with wooden details and traditional elements like pickle jars and brass tiffins. Adding character to the space, a patterned tile floor completes the look.
Also Read : 3 Rental Villas In Goa That Embrace Heritage, Luxury And Sustainability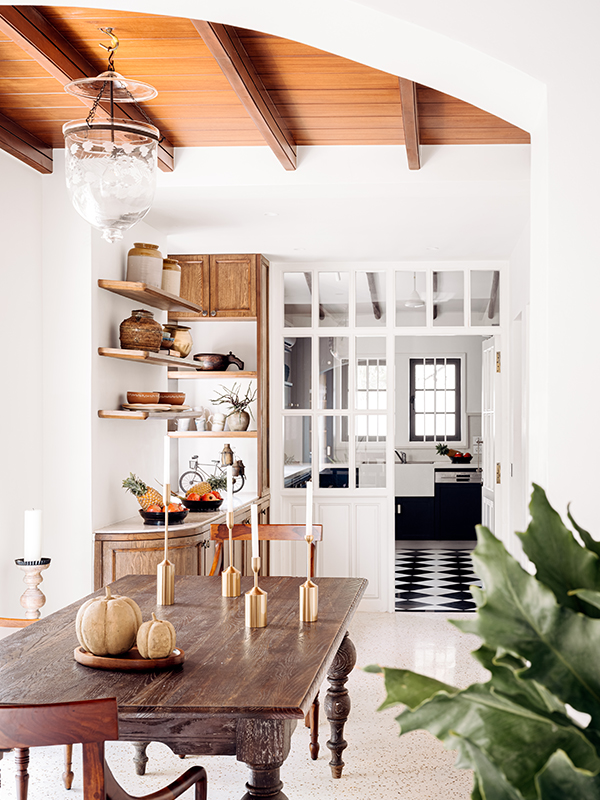 #2 Bringing In Bawa
Seamlessly blending the old with the new, this breathtaking house by the sea is a weekend family home in Chennai designed by Sruthi Reddy, principal architect and creative director of Ceebros Designworks. A tropical modernist sensibility, inspired greatly by Geoffrey Bawa's ethos shines through the entire space. The elegant colonial vibe of the house extends right from the entry colonnade to the subtle arches to the black and white checkered flooring in the kitchen.
This dreamy country-style open kitchen serves as a relaxing space for weekend cookouts. The dining room is extended to the outside by the introduction of a projecting glass box to enjoy the outdoor views. A visual palette of light tones with natural materials evoke a beach sensibility. The original traditional wooden timber beams on the ceiling have remained untouched and to ensure continuity they have been extended to the verandah as well. A synergy between old and new also extends to the furniture and artifacts tying two contrasting styles together, since it is a mix of pieces collected over time. Décor from Paradise Road Colombo such as a set of plump candelabra that are a pièce de résistance in their own right.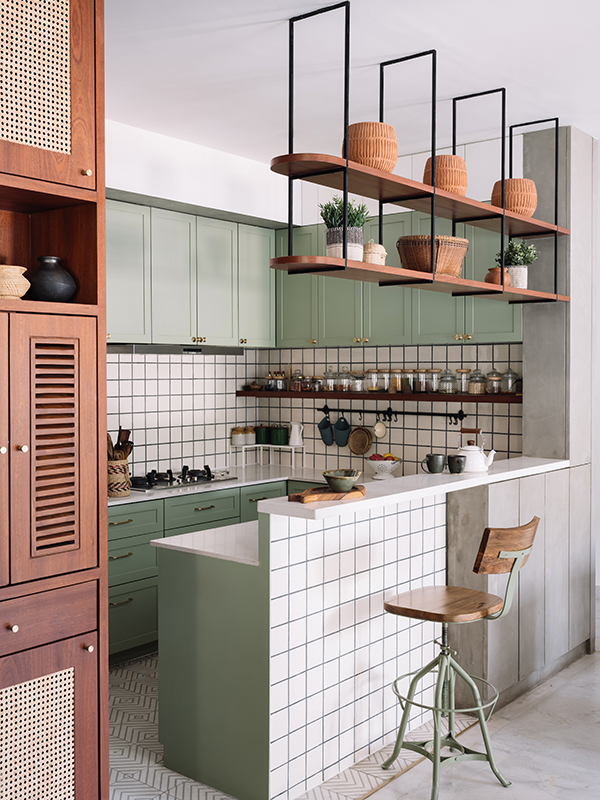 #3 Soft Sage
This Bangalore apartment by architecture and interior design Studio ma+rs is refreshingly timeless. Eschewing all things cookie-cutter, it features fabrics, artefacts and furniture that represent Indian craftsmanship at its best. The layout incorporates a bright open kitchen that remains naturally lit through two balconies, also ensuring a visual connection to the greenery outside at all times from the living, dining and kitchen.
A calming sage green in the open kitchen was specifically chosen to create an offset for the muted adjacent spaces to draw from. Bringing in an element of freshness and a modern feel, the kitchen was fitted with a white quartz countertop, white Piccolo tiles on the front of the kitchen and backsplash, and cement finish plaster on the kitchen units. The apartment has a distinctively warm feel with the generous use of wood, woven baskets, brass accents and a grand focus on fabrics.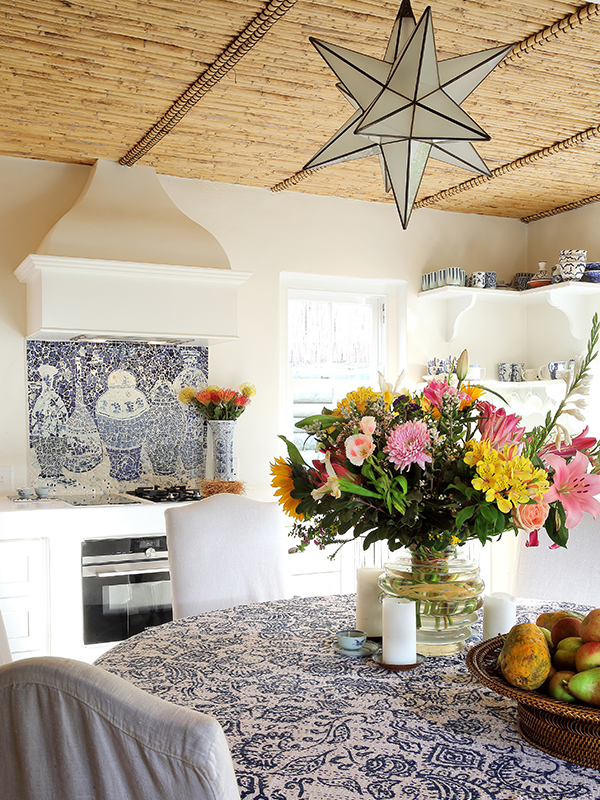 #4 Countryside Collectibles
Designer Serena Crawford's curio-filled beach cottage in South Africa is a visual manifestation of her love for travel. The cottage is aptly named Lalapanzi, an African name that translates to 'lie down'. The interiors are all white, save for the careful inclusion of colour that effortlessly blends in, rather than distracts. The tranquil theme flows through five bedrooms, a cozy kitchen, sprawling veranda, indoor and outdoor bathrooms, and a mezzanine library.
In the kitchen, a mosaic backsplash handcrafted from pieces of broken blue-and-white porcelain retained over the years is the only real infusion of colour. This was designed by a Plettenberg Bay artist, using broken porcelain pieces that Crawford had bought from the Nanking cargo (a Dutch East India ship that had sunk in 1752). Complemented by a roof crafted from reeds that grow in Oudtshoorn nearby is very much in line with the South African vernacular, particularly in the Cape. A striking star lantern adds an eclectic touch to the kitchen.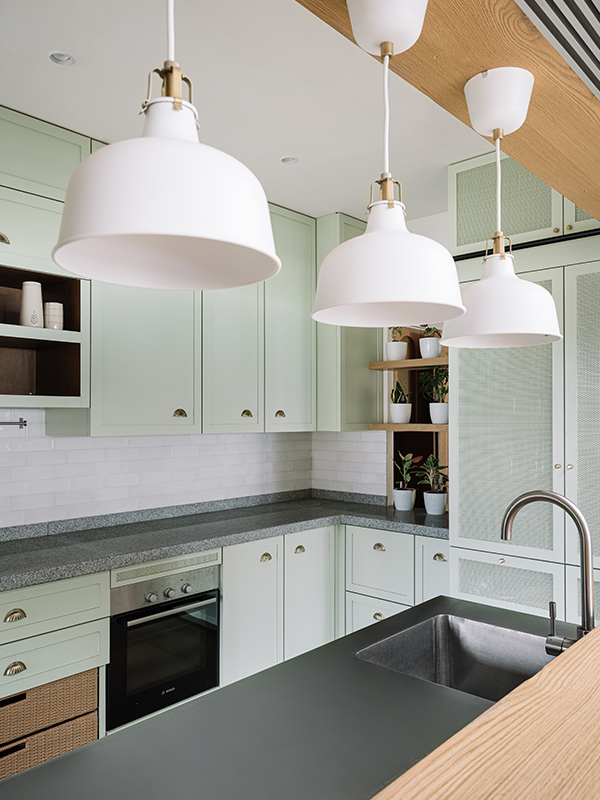 #5 Mint Minimalism
For interior designer Kumpal Vaid of Purple Backyard, stepping into the Shibui House feels like "reading a poem". The space, though understated, speaks volumes. Both Indian and Japanese design sensibilities coalesce in the most organic fashion, lending to this three-bedroom apartment in Mumbai a unique character. Featuring a distinct cottage-core aesthetic, the kitchen's mint-hued cabinetry with brass shell handles add a certain coolness to the interior. A white tile backsplash adds to the country charm, along with the woven wicker baskets integrated into the drawers. Sliding teak wood profile windows segregate the kitchen from the living and dining area, striking a balance between privacy and expansiveness.
Also Read : Chic Chromatics – 7 Glamorous Bathrooms With A Burst Of Colour