Delhi International Airport Gets An Exquisite Lounge, Encalm Privé, Raises The Bar For Airport Hospitality Design
1

Nov

'23

4:43 pm

by

Tanvee Abhyankar
Creating a space that caters to the discerning needs of business-class travellers requires a unique and thoughtful approach to design. Encalm Privé at Delhi International Airport is one such example in recent times. Strategically positioned as India's and Asia's finest lounge, spanning an impressive 30,000 square feet and accommodating over 550 seats, this space seeks to redefine the expectations of discerning travellers, raising the bar for what an airport lounge could offer.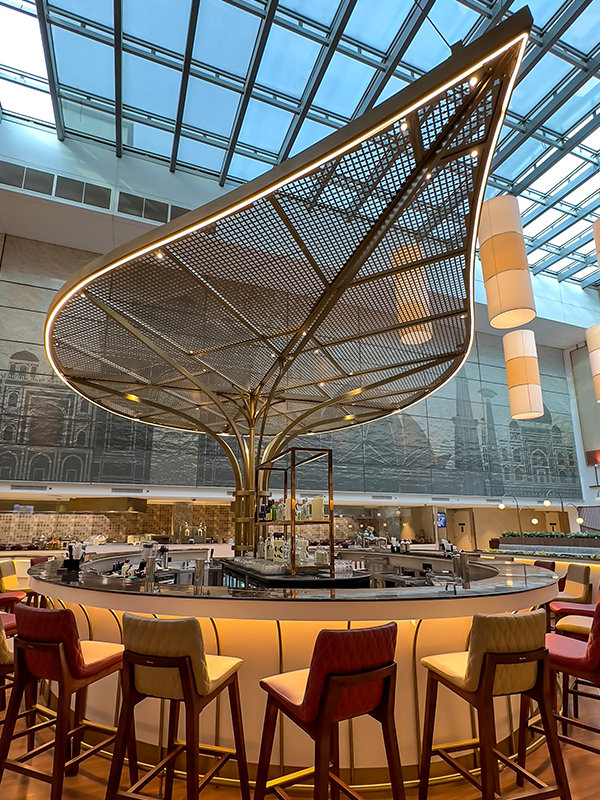 As travellers step into the Encalm Privé lounge, they are welcomed with an array of amenities designed to elevate their well-being and enhance their journey. The lounge's design embodies cutting-edge principles, ensuring it remains a benchmark in the world of airport hospitality. It features a business center, a dedicated library, and a kids' play area to cater to a wide range of passenger needs. Furthermore, the upcoming facilities, including a spa and fitness center, sleeping pods and rooms, a gaming zone, and showers, are set to further enhance the traveller's experience. The design of this lounge finds expression through the use of high-quality materials, a tasteful colour palette, and upscale furnishings. Every element has been carefully curated not just for comfort but to create an atmosphere that exudes luxury.
Also Read: Tira Beauty's New Office In Mumbai Is An Ode To Skin Redefining The Workspace
One of the unique aspects of Encalm Privé's design is its incorporation of elements inspired by local Indian culture. This not only creates a distinct sense of place but also ensures that travellers feel a deep connection with the destination. The lounge's designers have taken inspiration from India's rich and diverse cultural heritage, seamlessly integrating these elements into the contemporary design.
"Encalm Privé stands as a hallmark of luxury, design, and personalised service. It's more than a lounge; it's a journey into a world where comfort, elegance, and innovation converge," says Ms Ruchika Chauhan, Head of Design & Technical Services at Encalm Hospitality. Incorporating that in the design, the lounge strikes a perfect balance between minimalism and sophistication. Clean lines, simple shapes, and a neutral colour palette come together to create a serene ambience, providing travellers with a respite from the rigours of their journey. Its design reflects a commitment to environmental responsibility and innovative solutions.