#DPExclusive: Edo Mapelli Mozzi Designs An Art-filled Penthouse On The 76th Storey In Manhattan
18

Jul

'23

6:29 pm

by

Beverly Pereira
As many storied buildings come and go, there are some that live on – thanks to the meaningful application of adaptive reuse. Not only does the property remain historically relevant, but, more often than not, also goes on to become a much more desirable address. A new development at 111 West 57th Street in Manhattan, NYC, seamlessly sets a new standard for luxury living while balancing the past and future. The duplex penthouse on the 76th storey with a view centred on Central Park beautifully juxtaposes subtle touches with statement accents; nature and the city beyond; and a delightful blend of the old and the new. The historic property pairs the iconic Steinway Hall, once home to the Steinway & Sons piano company, with the newly constructed Steinway Tower designed by SHoP Architects in collaboration with JDS Development Group.
Designed by London-based global real estate specialist and design studio Banda founded by Edoardo "Edo" Mapelli Mozzi, the apartment's inherently bold and contemporary design is peppered with collected art and curated furniture. The home's high art aesthetic befits the magnitude and historical aspect of the tower and its location. "Our vision was to create an interior design scheme relevant to the location, complementing the dynamic visual theater outside and the architecture of the building. I knew we could add depth, personality, and a strong sense of home by incorporating antiques, vintage items, and artisanal pieces sourced from all over the world," says designer Mapelli Mozzi, husband of Princess Beatrice.
On the 76th floor, an elevator opens into a private gallery with a sweeping custom staircase designed by William Sofield, the award-winning interior architect of the Steinway Tower. The long 'great room', an expansive space for entertaining, is perfectly centered over the verdant Central Park. At the other end, to the south, sit the kitchen, dining, and study areas that open out to a terrace with commanding views of the city skyline, its rivers and the Statue of Liberty beyond.
The Bold And Great Room
Taking a bold, site-specific approach to match the bold proportions of the 'great room' and the apartment at large, Banda Design Studio worked with Invisible Collection and the Paris-based Nous Art to purposefully source statement pieces from different genres, eras, and locations. "I wanted to create a design ecosystem that would reflect the building's story and its blend of architectural styles," shares Mapelli Mozzi.
"Luxury here is subtle and understated. It's about knowing the true value of something, such as its back story – the power within it. Here, within this forward-thinking modern structure that sits on one of New York's oldest and most recognisable buildings, the importance of provenance, relevance, and authenticity in design seem even more important," the designer explains.
Also Read: #DPExclusive – This Manhattan Apartment By Aamir Khandwala Is A Collector's Paradise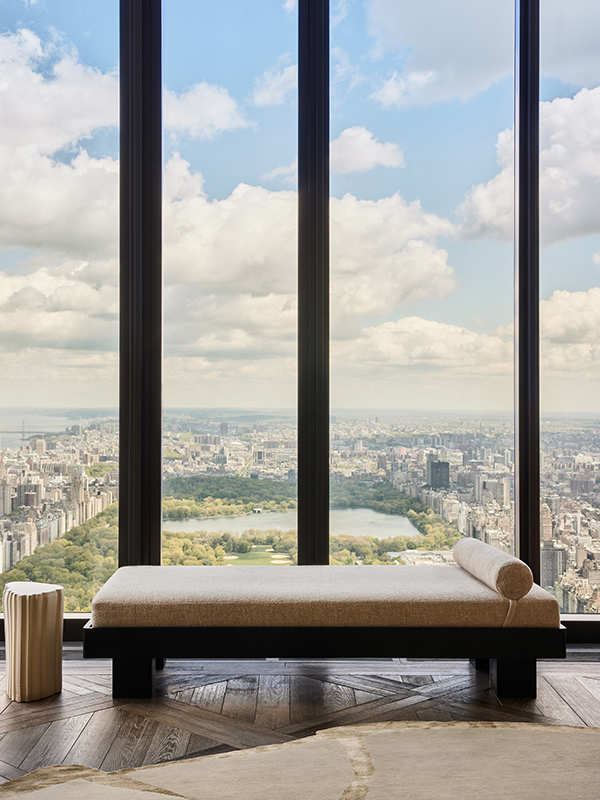 In the great room, the gentle curves of a pair of Saint Honoré sofas by Pierre Augustin Rose set off the precise, geometric lines of Steinway Tower. Even the rotundness of the 'Cuprite d'Eau Coffee Table' by Pierre Bonnefille, also sourced via Invisible Collection, carries a decidedly quiet charm while simultaneously elevating the space artfully with red pigment, bronze, and transparent resin finishes. Resting atop the beautiful 'Paysage I' rug designed by artist Francois Mascarello and hand-knotted in Nepal, furniture pieces such as these establish a chic, opulent mood.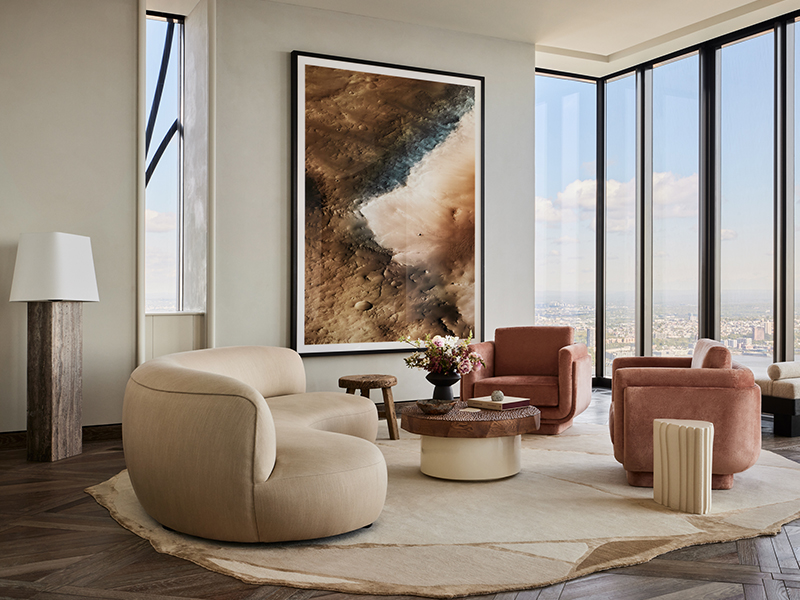 Old-rose pink Ebisu armchairs by Charlotte Biltgen and the gently curved '280 sofa' are tasteful inclusions around a sculpted oak-top coffee table with an off-white lacquered base by Pierre Augustin Rose. Here, a larger-than-life piece of art titled M.a.r.s. No. 10 by Thomas Ruff supplied by Nous Art elevates the space. "Our aim was to compose a real home—a domestic interior that caters to a dynamic lifestyle but also offers moments of calm and seclusion for contemplating and recharging. This is what I knew we could achieve: balancing warmth, depth, and the comfort of a home with the extroverted, fun nature of showpieces," says Mapelli Mozzi, adding that he adores the brutalist accents of gouged wood on the coffee table.
Also Read: 5 Statement Coffee Tables That Can Have A Big Impact In Your Living Space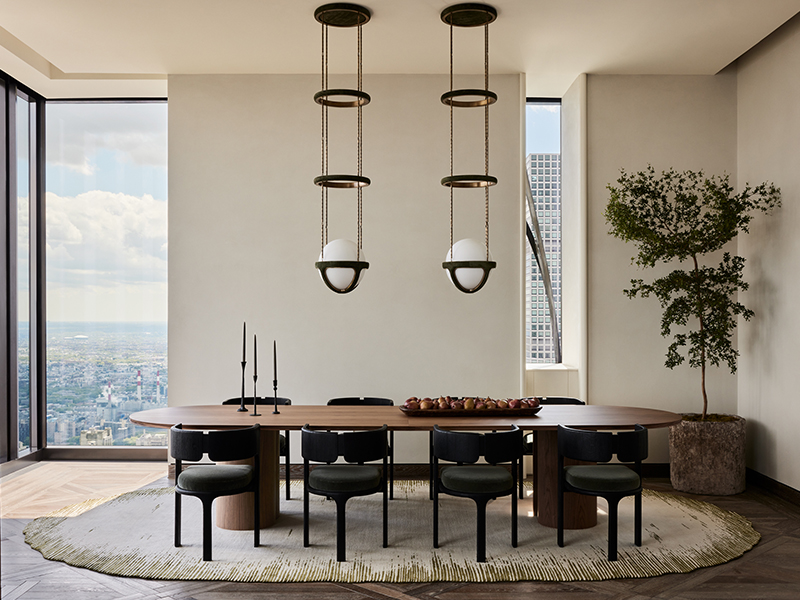 Objects And Accents
Neutral walls in a specialty plaster finish present the perfect backdrop for striking pieces of furniture, fittings and art objects. In the dining room, Mast Teak Chairs by Atelier Pendhapa congregate around an imposing dark walnut Luco dining table by Studio Parisien. Even lighting fixtures take on an artful quality, whether it's the Reprise pendants in aged brass and juniper suede in the dining room or the great room's Signal Y aged brass pendants with a smoked glass finish, both by Apparatus Studio.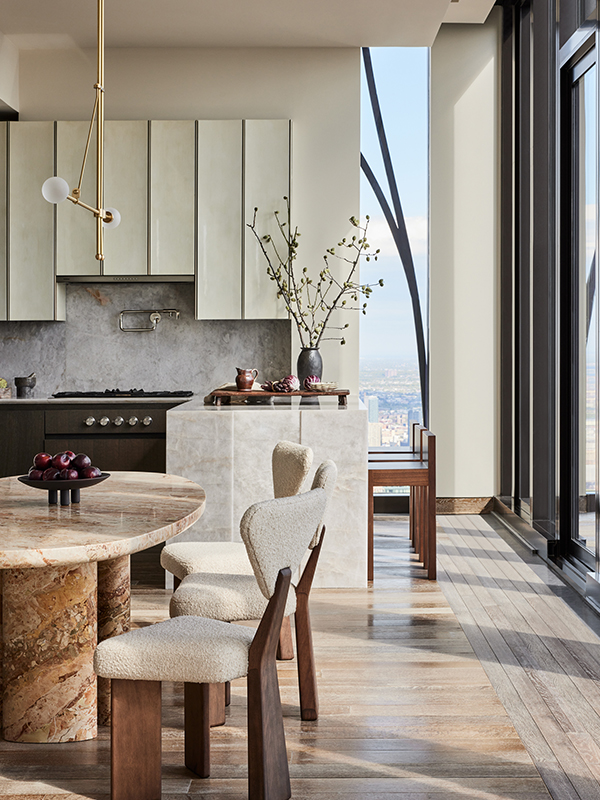 The kitchen, too, was a crucial part of Banda's enveloping artistic vision for the apartment. Floor-to-ceiling windows, 14 feet high, bring in sweeping views. An apt pairing of the majestic limited-edition Swan Dining Table in solid Breccia Aurora marble by Francesco Balzano with Giraffe dining chairs by Juliana Lima Vasconcellos transforms the kitchen into a luxuriant nook with striking artwork by Per Kirkeby (Nous Art).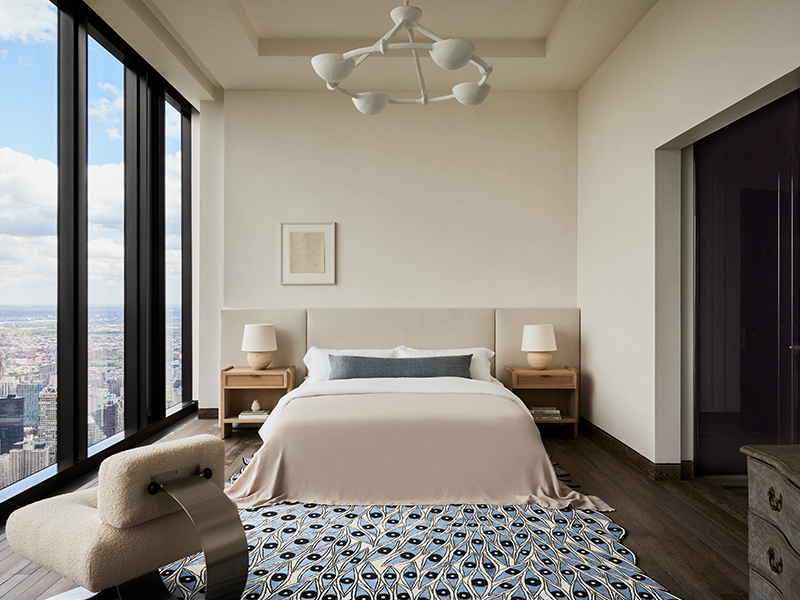 Grandeur In The Master
A floor up, the master occupies the entire length of the glass north façade, bringing in unmatchable views of New York's famed green zone. Featuring statement pieces like the Alta Chair by the Brazilian Modern master Oscar Niemeyer, the bedroom lets art pieces such as these luxuriously augment the otherwise neutral palette without taking away from commanding views. Covered with bespoke, textured pigmented plaster for warmth and a sense of earthiness, the walls of this private space sit in contrast to the otherwise industrial glass and steel façade.
A bespoke headboard designed by Banda and sculptural Hellmet side tables finished in titanium travertine by Thierry Lemaire add to the modernity of the master. Even a vintage French Provencal antique bowfront commode with original brass hardware brings in a touch of European history. But it's the Nazar Rug No. 5 by Atelier Fevrier that really steals the show. The rug, hand-knotted in Nepal, is also one of Mapelli Mozzi's favourite design moments in the home.
"Each of these rugs involves a workforce of around 50 expert craftspeople. It's this combination of teamwork and talent, combined with these wonderful bold, bright colours that really make it sing," says the designer.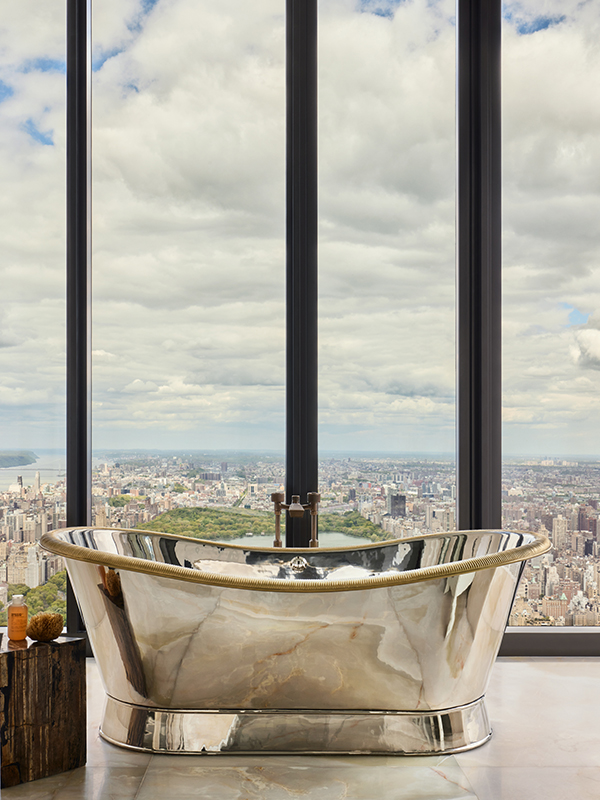 By blending both heritage and modern touches, two guest bedrooms on the upper floor rely on the unique aesthetic crafted by Banda. A smaller guest room with an ensuite bathroom features an olive all-finish with a dark green velvet headboard. Period pieces, statement lighting, and a plethora of art add layers of quaintness to this outwardly cosmopolitan apartment.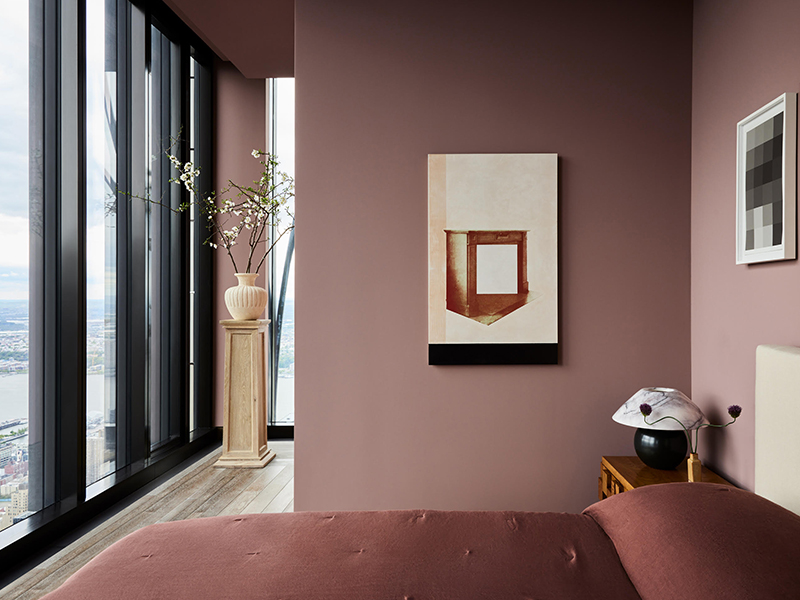 An Homage To The City
The larger guest room with dusty pink walls carries a contemporary piece of art by Christopher Wool; its modern approach perfectly complements the antique mid-century modern Mosaic Oak nightstands by Lane. A jute-plaited silver rug from Coral and Hive evokes calm while introducing a hint of colour as a nod to the evening skyline.
Curated by the Paris-based consultancy Nous Art, the penthouse's exceptional art collection comprises over 20 artworks by 16 artists, including some of the most renowned figures of the Post-War and contemporary art scenes. "Our brief for the curation was to create bridges between the art collection, location, and surrounding environment," says Mapelli Mozzi, whose studio Banda worked closely with Nous Art. The designer was particularly thrilled with the inclusion of Andy Warhol's exquisite ink on manila paper drawings from the '50s, not just for their beauty but also for their relevance. After all, the iconic Studio 54 was once located only two blocks away from Steinway Tower.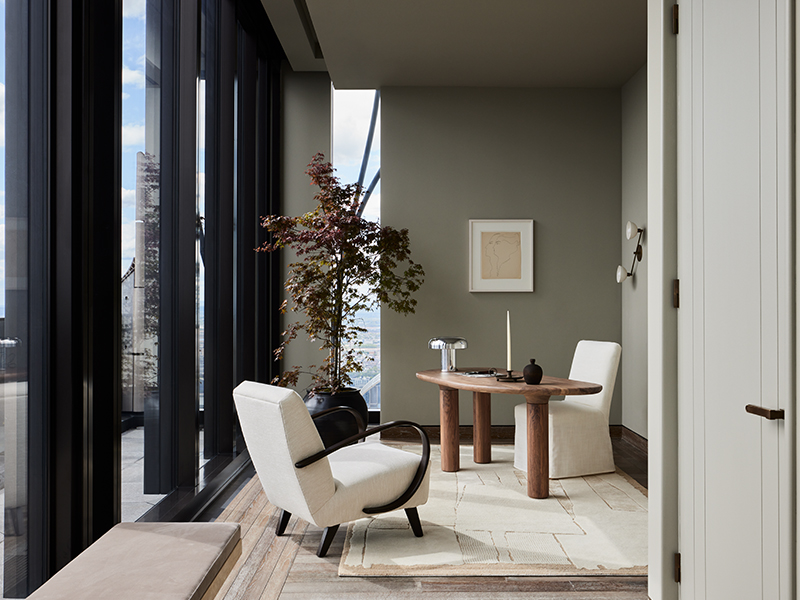 This luxuriously designed NYC penthouse strategically orchestrates art and design to craft interiors that are sophisticated, elegant, and ultimately chic.
Also Read: #DPExclusive – This Richly Textured Mumbai Apartment Was Designed To Be A Dopamine Driver