Lutyens' Delhi: A Journey Through 4 Of His Iconic Landmarks
26

Sep

'23

10:54 am

by

Tanvee Abhyankar
Sir Edwin Landseer Lutyens, the English architect renowned for transforming India's capital city, left an enduring legacy that transcends time and borders. His architectural genius is epitomised in iconic landmarks that grace New Delhi's landscape. Lutyens possessed a unique ability to harmoniously blend classical elegance with innovative design, reflecting a deep understanding of the surrounding environment. His creations fused traditional architectural elements with contemporary concepts, resulting in structures that exude both timelessness and modernity.
Characterised by symmetry, intricate ornamentation, and impeccable proportion, Lutyens' architectural prowess shines through in every detail of his monumental public buildings. In retracing his design journey, we gain a profound appreciation for his intricate engineering and artistic mastery behind these grand structures. From the majestic India Gate, a testament to Lutyens' expertise in war memorials, to the resplendent Rashtrapati Bhavan— we witness a fusion of architectural styles.
Also read: Restoring A Mumbai Icon: How The David Sassoon Library Regained Its Former Splendour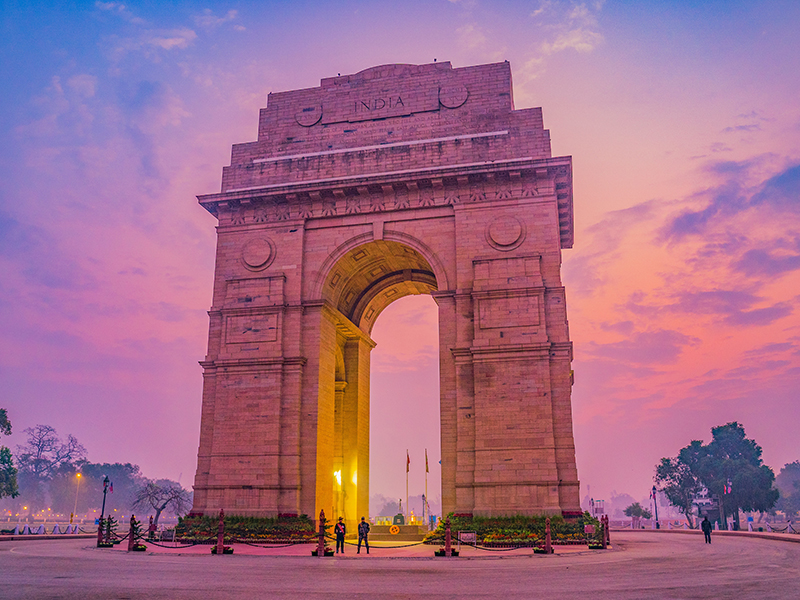 1. India Gate-The Secular Symbol Of Valour And Unity
India Gate is an exemplary example of Lutyens' expertise in constructing war memorials—the architect is known as Europe's foremost designer of war graves and memorials. Having been an active member of the Imperial War Graves Commission (IWGC), Sir Edwin Lutyens was also reputed to have built a style of commemoration based on a "universal architectural style free of religious ornamentation.". The intricacies in the carvings of this war memorial are therefore free of any religious undertones, solely focusing on national unity and the commemoration of valour.
The foundation was laid in the year of 1921 when the architect had worked in India long enough to understand the culture, history, and demography of the country, which enabled him to create something this monumental. The fundamentally Asian pointed arch too, was avoided by the architect, who tactfully designed it as a triumphal arch. Built to honour Indian soldiers lost in World War I, Lutyens has sensibly crafted the red Bharatpur sandstone archway and has adorned it with carvings and soldier-themed bas-reliefs. Its strategic placement on New Delhi's ceremonial axis, aligned with the Rashtrapati Bhavan and Rajpath, showcases the architect's urban planning acumen too. The Roman triumphal arch-styled war memorial stands proudly, to date, as an enduring symbol that not only exudes architectural grandeur but also encapsulates the nation's valour and unity.
Also read: Mary Budden Estate: A 19th Century Luxury British Property In Binsar, Uttarakhand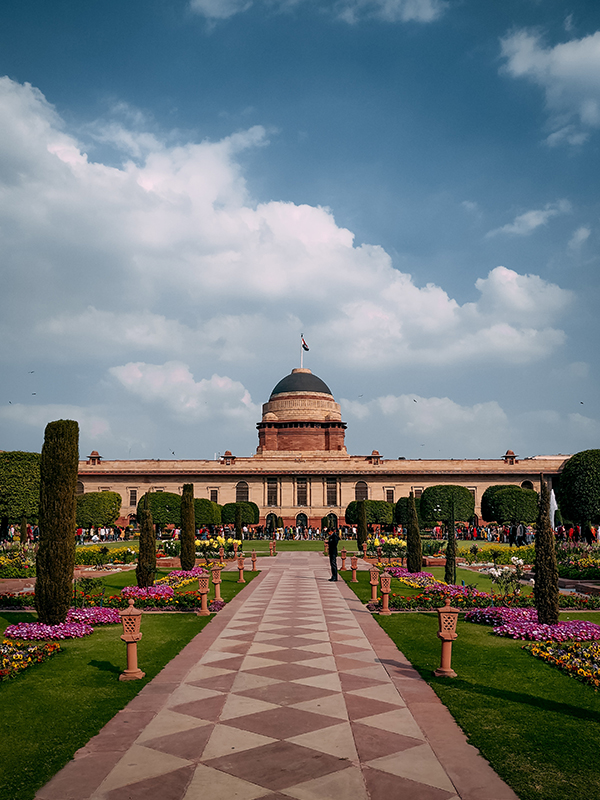 2. Rashtrapati Bhavan -All of India's Architectural Designs In One Place
Marking the western end of Kartvyapath on Raisina Hill is Rashtrapati Bhavan, the expansive campus reflecting a mix of architectural styles blended perfectly. Earlier known as the Viceroy's House, this living complex is another remarkable creation by Lutyens that embodies his exceptional architectural ingenuity and thematic design. As the official residence of the President of India (originally intended for the British Viceroys), the building prolifically reflects a distinct nonce order of architecture founded by Lutyens himself: the Delhi Order. It includes the classical elements of the Indian style with the virtue of the fundamental context, an array of Indo-Saracenic motifs, and a careful mix of Mughal and European Colonial architecture.
Inspirations from Hindu, Rajput, Ashokan and Mauryan buildings have been incorporated wisely to make sure the whole of India's architectural legacy is captured in his architectural prowess. The placement and master plan of the Rashtrapati Bhavan went through several revisions and had to see a lot of changes and clashes before it came to reality as the symmetrical grandeur that stands testimony testifies to the architect's mastery of proportion and spatial harmony. Today the Rashtrapati Bhavan stands not only as an architectural marvel but also as a symbol of India's democratic strength and heritage.
Also read: The Indian Craft Glossary – 25 Words You Must Know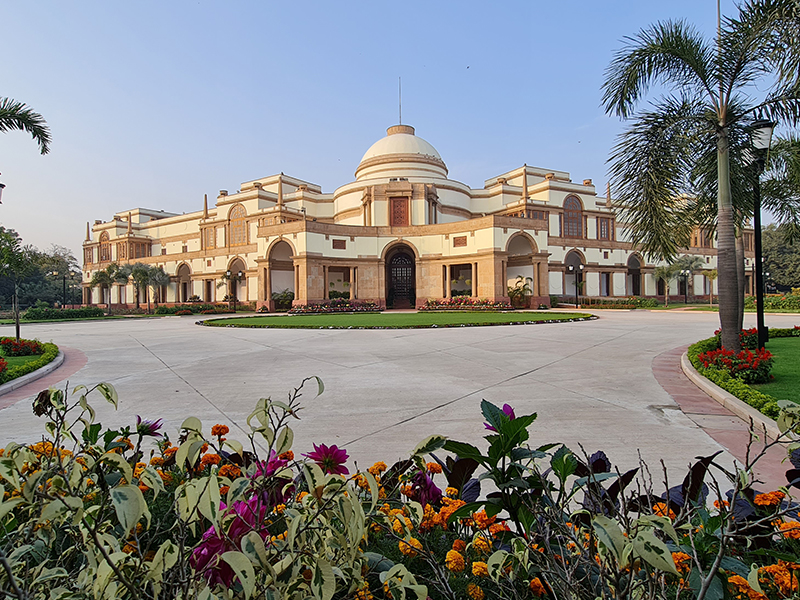 3. Hyderabad House- The Nizam's Opulent Residence In Delhi
Second only to Rashtrapati Bhavan is Hyderabad House, the largest and most grand of all palaces built in Delhi by Lutyens between 1921 and 1931. Spread over acres, the Hyderabad House's layout resembles the shape of a butterfly The last Nizam of Hyderabad, Mir Osman Ali Khan himself, chose Lutyens to carry out the design of his palace in the national capital. Having already worked extensively in Delhi on various structures, the architect blended this design easily with the rest of his work save for a touch of Nizam's wealth and opulence. The entrance hall of the palace- a dome with an entrance hall beneath symmetrical wings at a fifty-five-degree angle, is the outstanding feature.
Hyderabad House primarily showcases European architectural elements, including a central dome, circular entrance hall, square gardens, staircases, obelisks, and an archway, with subtle influences of Mughal design motifs. The marble flooring in the entrance foyer and the circular hallway on the first floor are adorned with captivating rhombic patterns, catching the eye of all who enter these spaces with their remarkable and distinctive features. Still functional and very much of importance, the century-old building stands as a stunning embodiment of the architect's capacities as a creator, maker, sculptor, and avid thinker.
Also read: Everything You Need To Know About The Nita Mukesh Ambani Cultural Centre (NMACC) In Mumbai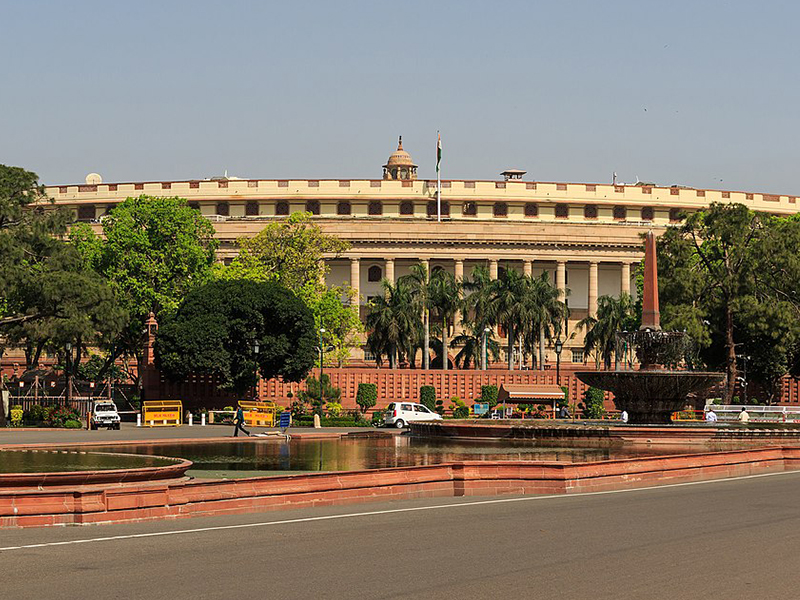 4. Sansad Bhavan – The Circular Colonnade In The Temple Of Democracy
The design of the Old Parliament House (also called Purani Sansad Bhavan) in New Delhi by Sir Edwin Lutyens and Herbert Baker is a striking blend of functional elegance. Completed in 1927 to house the Imperial Legislative Council, the design integrates classical and Mughal architectural elements. The exterior of the building is circular in shape—the expansive structure, encompassing almost six acres, making it one of the most unique parliament buildings globally and a widely recognized and iconic landmark.
It features a creamy Dholpur sandstone colonnade comprising 144 columns, showcasing Mughal and Rajasthani designs while reflecting Lutyens' fusion of influences. Inside, the Central Hall with its dome and circular layout symbolises unity through its intricate sun-inspired detailing on the ceiling. The parliament's campus is adorned with large gardens fenced with jaalis. Throughout, Lutyens' emphasis on symmetry and proportion creates an atmosphere that is both visually impressive and functionally efficient.
Sir Edwin Lutyens' architectural language not only left an indelible mark on this era but continues to inspire architects and enthusiasts worldwide. His creations serve as a testament to the enduring power of innovative design and the ability to seamlessly integrate tradition with progress in the realm of architecture.