Sourcing Secrets – The Festive Tablescape Edit With Srimoyi Bhattacharya And Chef Bani Nanda
19

Dec

'22

5:45 pm

by

Sneha Shah
Sourcing Secrets is a series in which Design Pataki brings to you the hottest insider tips on shopping for decor and art while uncovering fascinating finds from across the globe.
Srimoyi Bhattacharya is the founder of Peepul Advisory, a leading advisory firm in the luxury space. Author of 'Pitch Perfect', Srimoyi now lives with her family in Goa, where she launched 'TableCodebySri', a sourcebook for curated tablescapes.
Bani Nanda is a pastry chef and a businesswoman by profession with MIAM Patisserie in Delhi. Having worked in five-star hotels and patisseries in both India and France, Bani is also a creative expert in tablescapes and table settings.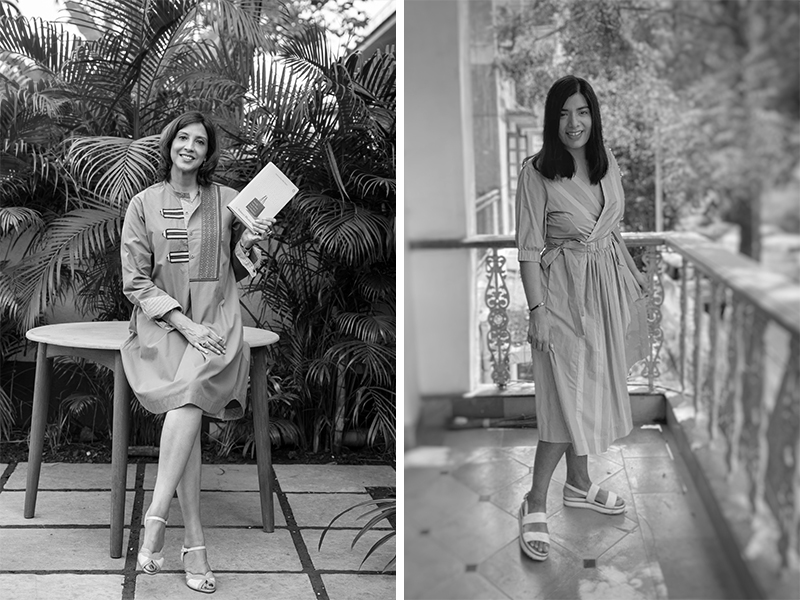 Design Pataki: What's one thing you love to splurge on in a festive tablescape?
Srimoyi Bhattacharya: I have a soft spot for silver flatware and art deco style cutlery – the French Maison Christofle resells its own vintage style pieces, and they are as striking as the brand's latest collections. Mine come from finds in flea markets and antique stores.
Bani Nanda: I love buying tablecloths! They truly set the mood for my tablescapes and I can mix and match my dinnerware.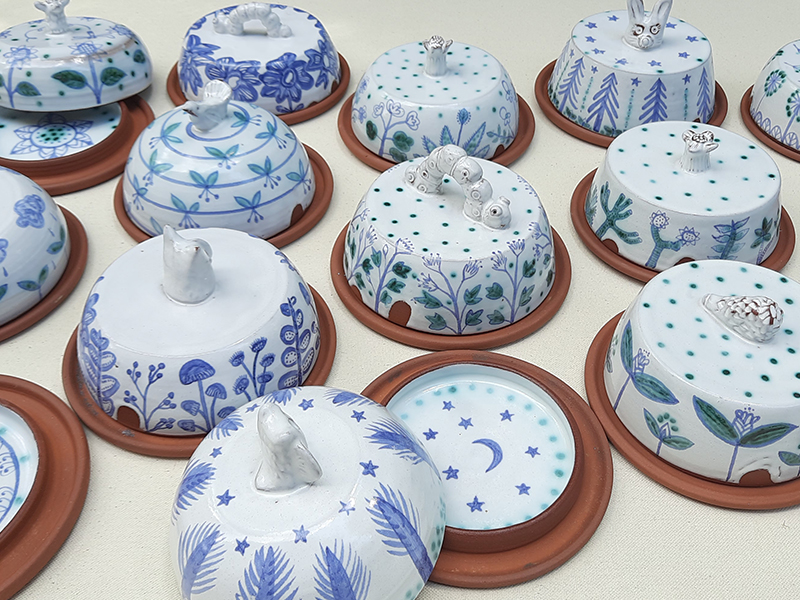 Design Pataki: What are your go-to brands for statement dinnerware?
Srimoyi Bhattacharya: I love to bring in colours and prints on my table and I tend to favour independent tableware brands. Handmade and hand-painted dinnerware just make every meal look all the more appetising. Two Jaipur-based labels have my full nod, Khanoom Jaipur and Thierry Journo for their stylish exuberance and decorative sophistication.
Bani Nanda: Rosenthal, Spode, Arabia Finland, Atelier LĀLMITTI.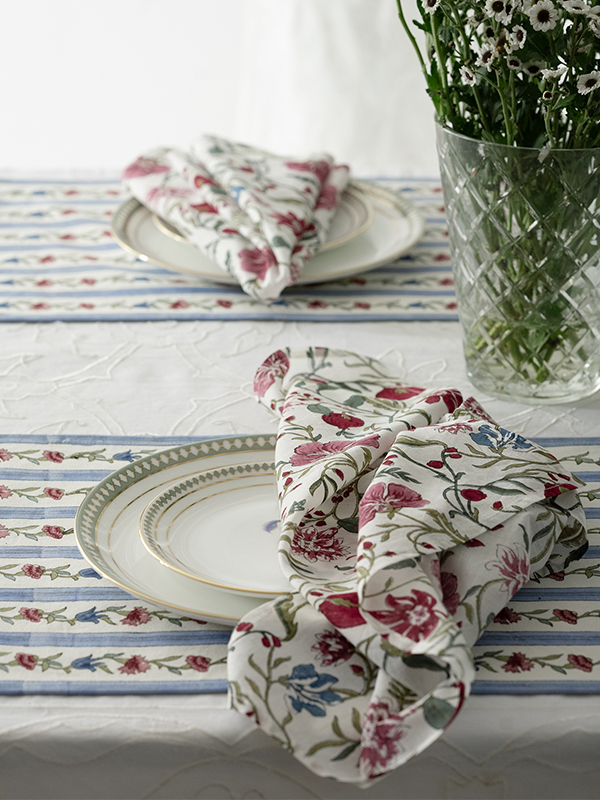 Design Pataki: What's your favourite brand for table linen?
Srimoyi Bhattacharya: I like an unfussy but cheerful table, and I am drawn to French designer Brigitte Singh's gorgeous table covers with her signature motifs – Brigitte is based in Amer and has a truly unique eye for detail and quality. Her joyful colourways always add depth and texture to give that panache.
Bani Nanda: Lino linens, Bengal embroidered tablecloths from Dilli haat, and Good Earth.
Design Pataki: What are your go-to decor accessories for a festive tablescape?
Srimoyi Bhattacharya: Throwing a festive dinner always starts with fragrancing a room, my favourite remains the signature diffuser oil from design house Paradise Road in Sri Lanka. I like to deck the table with the soft glow of candles on a towering candelabra for a mood-setting – Iconic home decor brand Good Earth has a beautiful selection of candle bases and stands.
Bani Nanda: I like keeping it simple and understated. This year I plan on decorating the table with poinsettia and candles. I stay away from one-time-use decorations / plastics / unsustainable materials.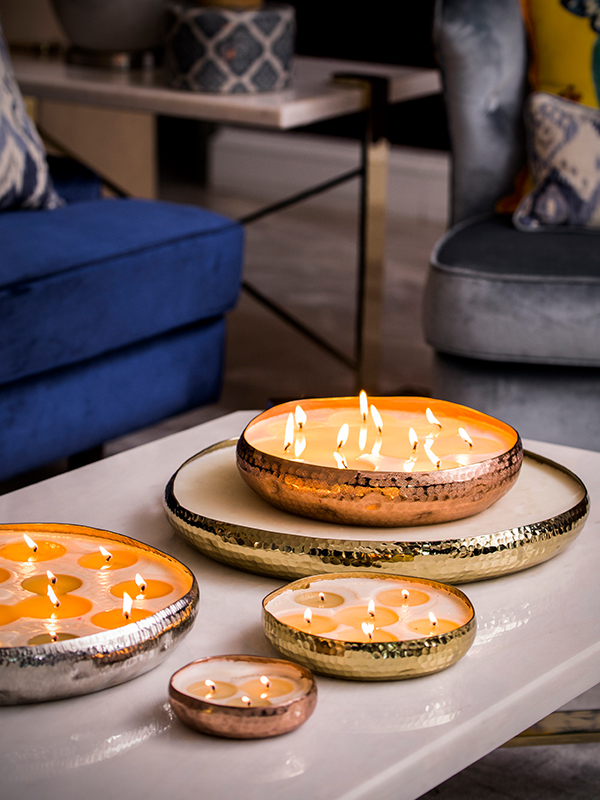 Design Pataki: What's a decorative candle brand you can't get enough of at the moment?
Srimoyi Bhattacharya: I discovered The Faraway Tree's scented candles thanks to designer Savio Jon in his beautiful Goa concept store. I love their heady scents, all layered with local aromatic blends like mogra and rich spices.
Bani Nanda: I recently came across some beautiful candles from Doft!
Design Pataki: What are your go-to flowers / greens for a Christmas tablescape?
Srimoyi Bhattacharya: I use coconuts and cashew fruits as centrepieces, and choose large leaves for long-stemmed vases.
Bani Nanda: Green chrysanthemums, poinsettias, nargis!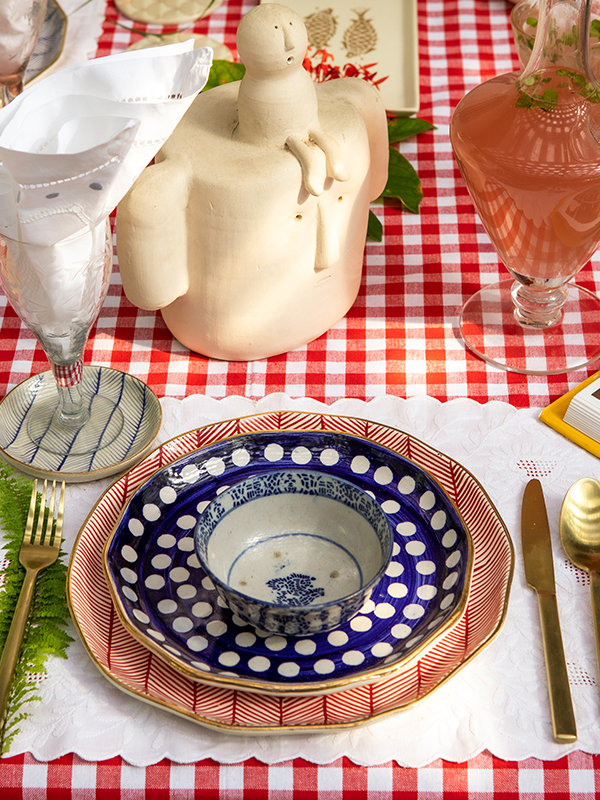 Design Pataki: What are the 3 styling elements that can instantly uplift a table setting?
Srimoyi Bhattacharya: A beautifully folded napkin can make a table sing, and then a cracker or a favour, and perhaps a name card will always make your guests feel special. And of course, a bounty of mood-brightening flowers and candles!
Bani Nanda: A centrepiece, contrasting tablecloth and a grand floral arrangement.
Design Pataki: What's a client purchase that you wish you could've kept for yourself?
Srimoyi Bhattacharya: A gorgeous hand-made table cover in Tatting lace that I found in Calcutta which had my heart for its artistry and impeccable artisanship.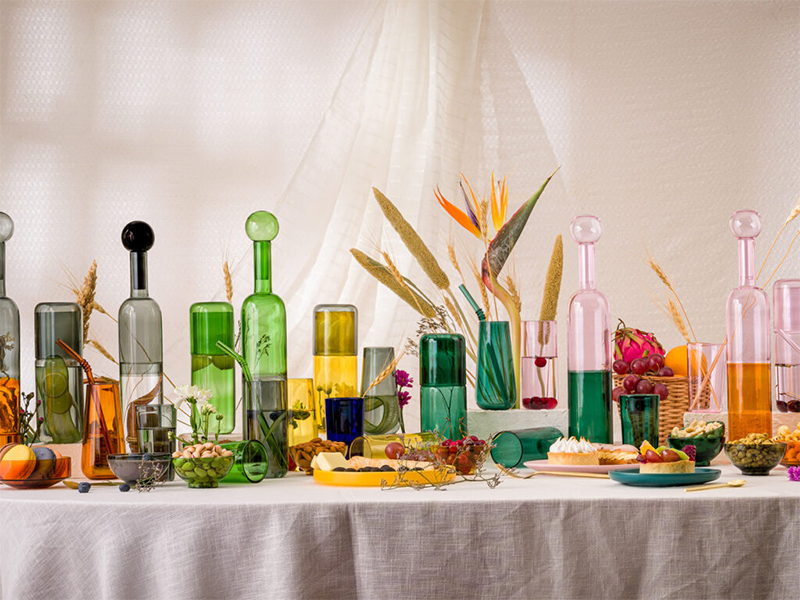 Design Pataki: What's your favourite brand for barware / glassware?
Srimoyi Bhattacharya: IKAI ASAI's glassware collections are absolute show-stoppers, their designs are a great reflection of India's modern and sustainable design vocabulary.
Bani Nanda: La Rochere and Glass Forest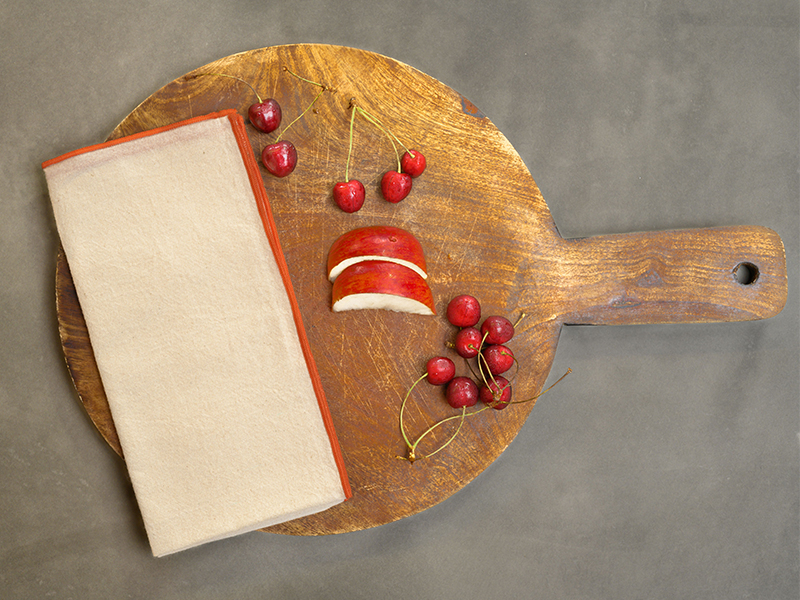 Design Pataki: What's one sustainable tableware brand you think more people should know about?
Srimoyi Bhattacharya: I stumbled upon Spinning Wheel Ceramics which is the talented Neela Venkatram's platform for functional and accent pieces. There's another discreet Mumbai-based label called Kar – hand-spun fabrics for table linens which have a casual quality that complement well some of my settings.
Bani Nanda: Okhai has some very good options for sustainable tableware. I love using Sabai Grass placemats and coasters!