The Ethos Of Rhizome: Where Craft Marries Art & Design Sustainably
19

Jul

'23

11:07 am

by

Manisha AR
Rhizome is a multidisciplinary design studio that works at the intersection of sustainability, craft, and design. Through their sustainable decor range and bespoke design services, they encourage a more conscious lifestyle and a more sustainable world. The studio founder, Rebecca Reubens believes in bridging the divide between the ground realities of working with Indian craft communities, the changing contemporary design market, and pressing global sustainability issues.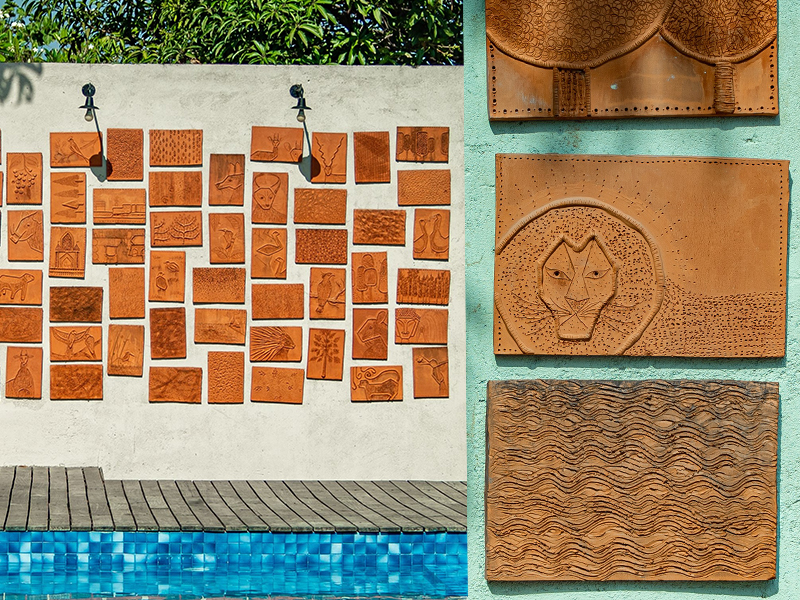 Sustainable, non-mainstream material choices
Rhizome looks at the entire life-cycle of the product – from raw material sourcing to production to distribution, to use, to end-of-life. To begin with, Rhizome works with clean and sustainable materials like bamboo, repurposed teak wood, brass, aluminum, paper-mâché, and so much more. They frequently find ways to upcycle materials from a host of sources. For instance, they use reclaimed wood from old pol houses in Ahmedabad. Found in Gujarat, pol houses are traditional clusters of homes designed for large joint families that were designed several decades ago. They are currently being demolished, so the studio has found a use for some of the seasoned Burmese and Valsadi teak from these houses' door and window frames.
Rhizome's founder has worked with bamboo for over two decades and is one of the three World Bamboo Ambassadors from India, nominated by the World Bamboo Organisation. From being deeply engaged with bamboo, Rhizome has extended its material palette to work with sustainable materials including upcycled metal, wood, leather, and fabric. Reubens tells DP that, "most often sustainable products are considered either too expensive or underperforming when compared to mainstream products." She wants to change the messaging around environmentally friendly designs. She adds, "Using indigenous craft-based material leaves a smaller carbon footprint, and working with indigenous communities and cultures helps preserve their inherently sustainable traditions."
Also Read: 5 Cottage-Core Kitchens To Inspire Your Next Home Renovation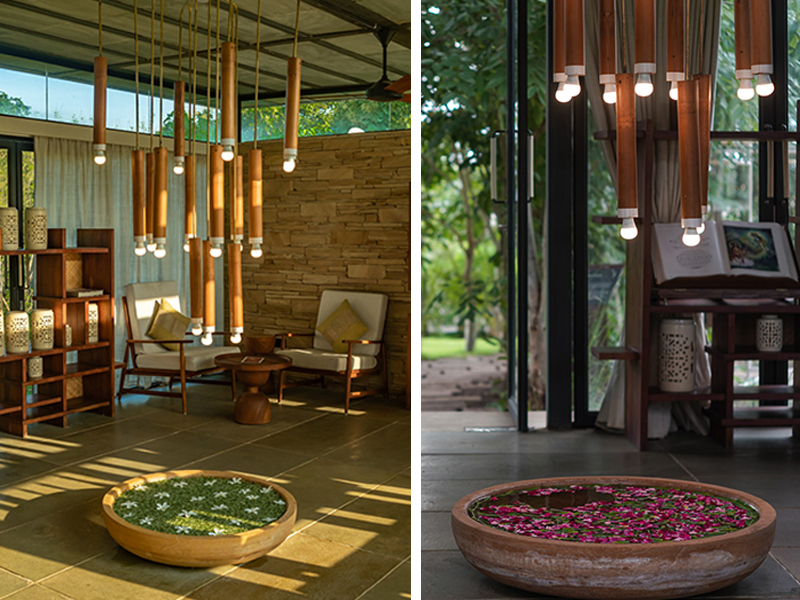 Conscious design
Reubens' passion for sustainability is rooted in her Ph.D. from the Delft University of Technology in the Netherlands in 2016. Rhizome takes sustainability very seriously. The studio's focus on sustainability goes back to 2009. At the studio, a product is collaboratively co-created by the team, whether an intern, a designer, the support staff, or a craftsperson. When choosing projects, the team at Rhizome ensures that the outcome benefits the producers, the clients, and the world we inhabit. One easy way has been to minimize the wastage of material. For instance, while creating an installation for a spa at Woods at Sasan, Rhizome's design was mindful of both the creative vision and sustainability. The final brass and bamboo chandelier they handcrafted drew on the natural shape of bamboo poles, such that it was visually stunning and didn't require too much material loss.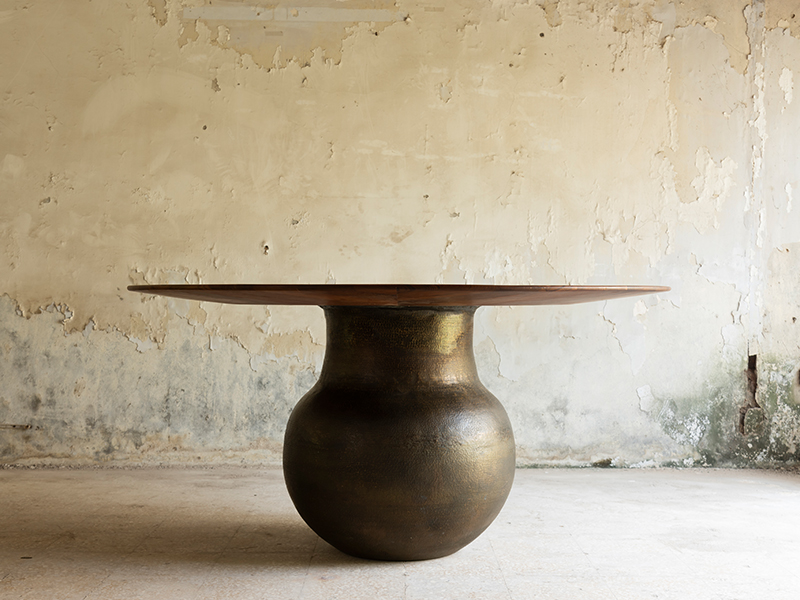 Preserving heritage traditions
"Art, craft, and design are very porous, and creativity should transgress these boundaries," says Reubens. Rhizome offers a selection of design services and a wide product range that includes furniture, lighting, parametric installations, and lifestyle products. Their collections reflect a contemporary Indian design language that tastefully marries craft with art and design. Rhizome's designs are created in collaboration with the craftspeople that produce them and imbibe a contemporary take on culture and heritage tradition. When considering projects, Rhizome leans towards solutions handcrafted by rural and urban craft communities. Their ultimate aim is to build products and systems that are ethical, viable, and likely to outlive trends.
A more recent project of theirs has been the Lota Collection, where they are working with Rajasthan's 'thathera' community to create furniture by rescaling and celebrating ubiquitous icons of Indian design, like the lota. While most would prefer to use the technique of metal casting to reduce time and cost, this collection embraces the hand-forming of metal which uses less material than casting and preserves a dying craft tradition. These handcrafted artisanal products are timeless and can fit into any traditional or contemporary Indian home.
Also Read: 3 Homes That Embrace The Burgeoning Wicker Trend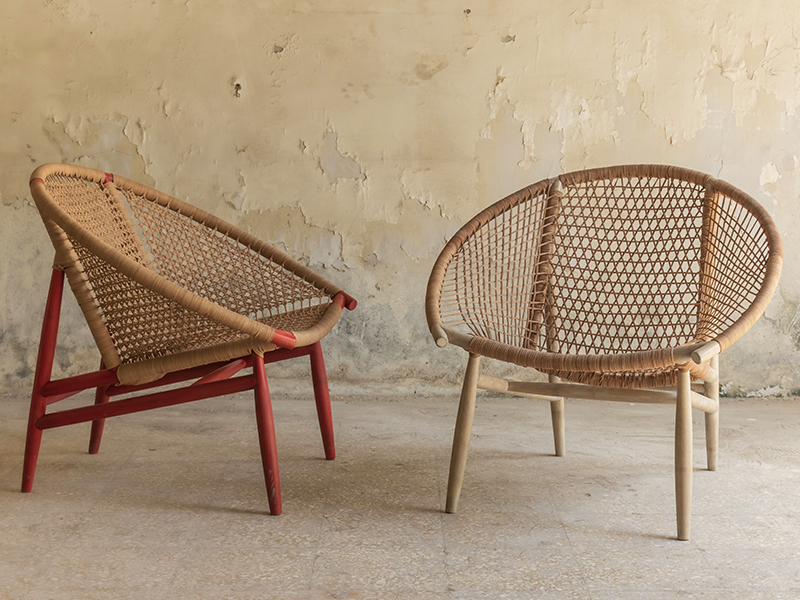 Made to last
Rhizome believes in creating products that users will love for a long time. Reubens says, "We believe that if you love what you have, you're going to hang on to it for as long as possible." In the same spirit of extending the product's life, Rhizome also offers their customers repair and refurbishing services. This means that many of their customers have returned to freshen up or repurpose a product, sometimes even a decade after they made the initial purchase.
Reubens' design process begins with thinking about the users and their function for the products. As a result, many of the pieces are designed to be utilitarian and made to last a long time. With a background in jewellery design from NIFT, Delhi, and her furniture design training from NID Ahmedabad, her style comes from an intimate point of view. It is the jewellery designer in her that makes her focus on how the product would look or feel against the body of the user, while the industrial designer is in her looks at resolving ergonomics. Embodying these ideals through each decision–whether on the personal, social, cultural, or economic level, is what makes Rhizome's take on sustainability more long-term and holistic.