Art, Tech, & A Bottle Of Coke: In Conversation With Jayesh Sachdev
18

Oct

'23

10:53 am

by

Urvi Kothari
Jayesh Sachdev is a designer, entrepreneur, design educator, and artist behind the AI balloon sculpture 'Ganesha installation at Art Basil' which has broken the internet. A deeper immersion into this world opens gateways into a parallel universe with characters bearing fanciful personalities – a saree-clad lady in an astronaut's helmet, Frida Kahlo presented within an Indianised ensemble, a centaur wearing Nike shoes, a pop contemporary twist to a Rasakapriya love making or shringara rasa evoking scene, Goddess Parvati (Lord Shiva's consort) enjoying a burger and cola, to name a few. These characters extend their interaction beyond the canvas both literally and metaphorically.
A national record holder of painting India's biggest concept artwork, Jayesh has been a recipient of multiple awards including the Vogue India Fashion Fund Award, British Council Young Arts Entrepreneurs India as well as the recent India's Best Design Award to name a few. Design Pataki speaks to Sachdev about this world of pop, color, and technology.
Also read: 5 Middle East Museums That Are Redefining The Cultural Scene In The Gulf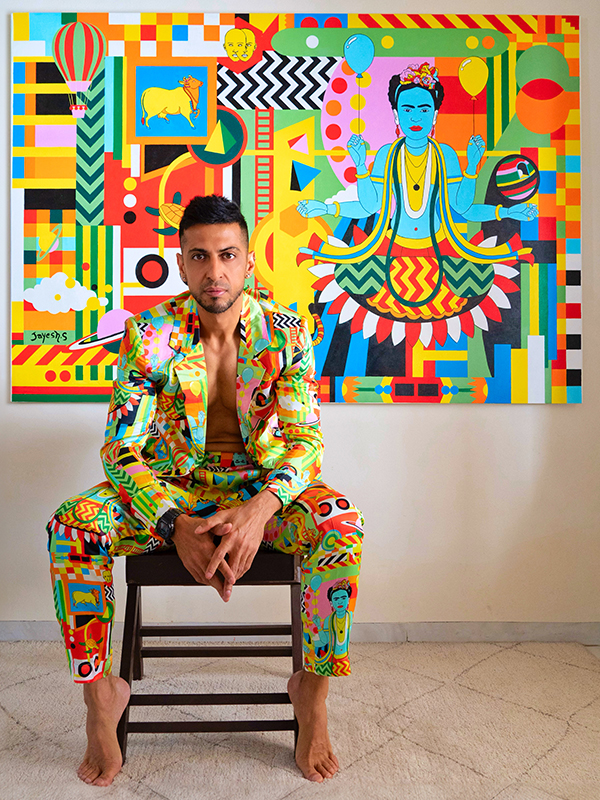 Design Pataki: Your inflatable 'Ganesha installation at Art Basil' has broken the internet. What led you to virtually sculpt these idols using this unique blend of AI technology and traditional artistry?
Jayesh Sachdev: As a creator I try not to be bound by the medium. Every medium is an exploration and a means of expression. Whether it's having founded 'Quirk Box' as a wearable Art Label or 'The Quirk Box Design Agency', painting on canvases, or playing with artificial intelligence – art is a form of expression. With the advent of new technology, it becomes an enabler of larger-than-life ideas coming to fruition.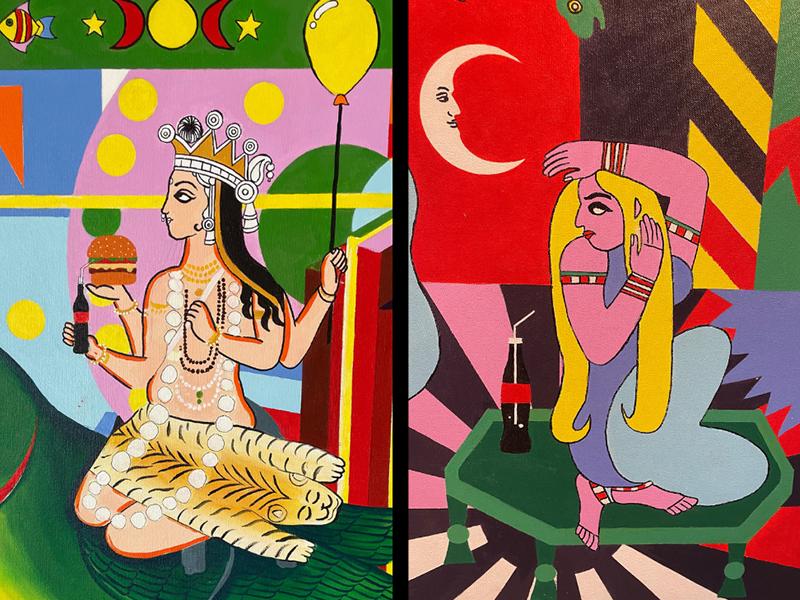 DP: Your artworks are a mélange of multiple defined art canons – Warhol's banana, the Mughalised idea of a three-quarter profile, Renaissance head sculpture, and indigenous folk art. Can you tell us more about your choice of art motifs?
JS: I explore the quantum dance of universal energy within atoms, revealing the extraordinary notion that all possibilities coexist. By envisioning and embracing alternate futures, we shape our present reality.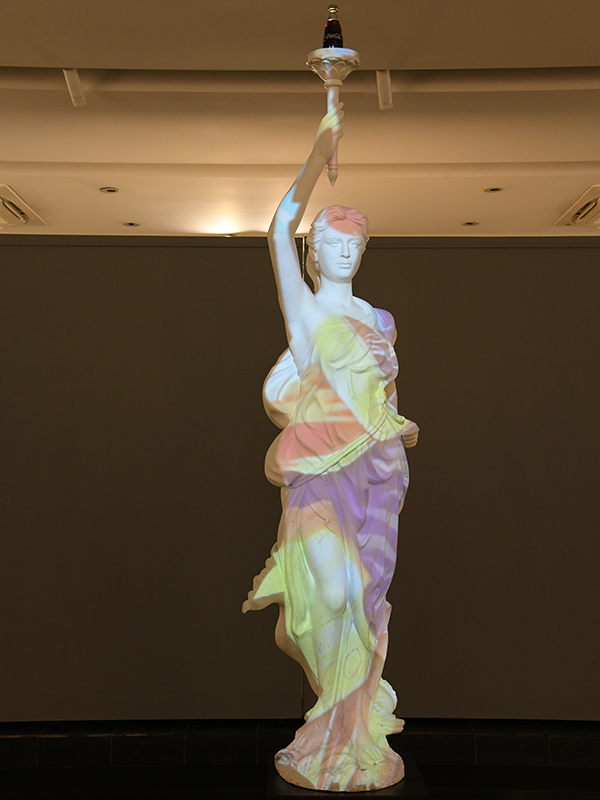 "I dwell in fantasy, surrealism, and play to the Picasso notion that everything you can imagine is real. That all possibilities exist."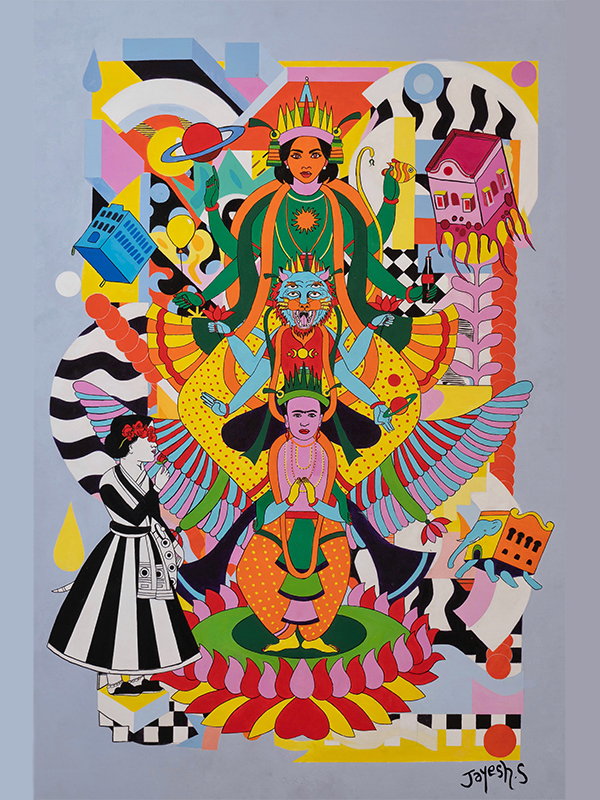 DP: While viewing your works, I find myself revisiting Bharata's Rasa Theory. The navarasa or nine emotions come into play at varied intervals while viewing your creations. According to you, what is the ultimate rasa or mood this show hopes to evoke within a viewer?
JS: We shape our present reality by envisioning and embracing alternate futures. Through the fusion of science and art, I invite you to ponder the limitless horizons where imagination meets the cosmos.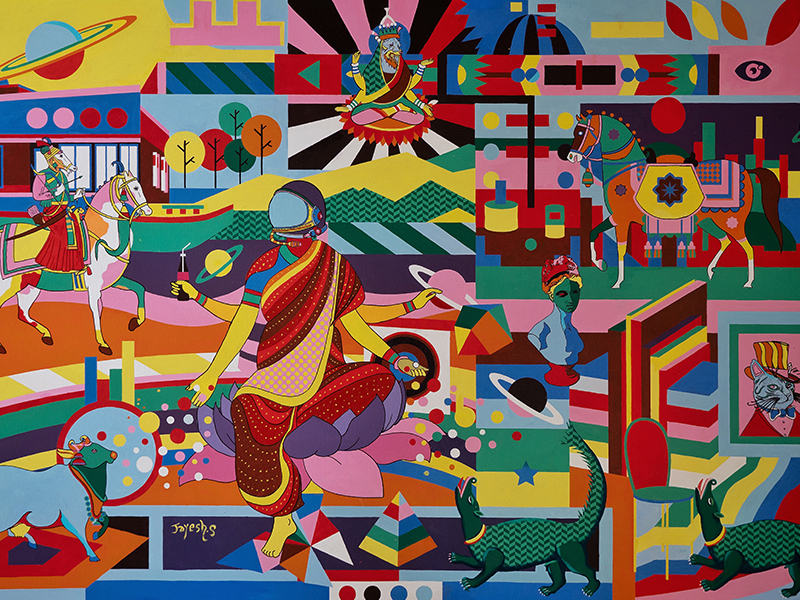 DP: Your exhibitions have interesting interactive Instagram filters that will give an alternate life to your paintings. As an artist standing at the edge of constantly evolving technology, how has augmented reality changed the conventional art gallery experience?
JS: We play to a multi-sensory experience. We adapt to the evolving environment, aspire to reach an audience outside of the confines of the gallery and seek to tickle and evoke a new visual dimension through the use of tech-enabled art that compliments my hand-painted acrylic on canvas. For this show, amalgamating tech and fine arts was only possible with the expertise of Galerie Geek Art.
DP: Tell us about some of the other projects you are working on.
JS: I am currently building and prototyping larger-than-life sculptures. Additionally, as the Founder of Quirk Box, I do have my hands full as a creator. I have a group show opening on the 28th of October at the Bombay Art Society and a solo show in Chennai from November through December this year. There is 'India Art Fair' and 'Art Dubai' ahead as well!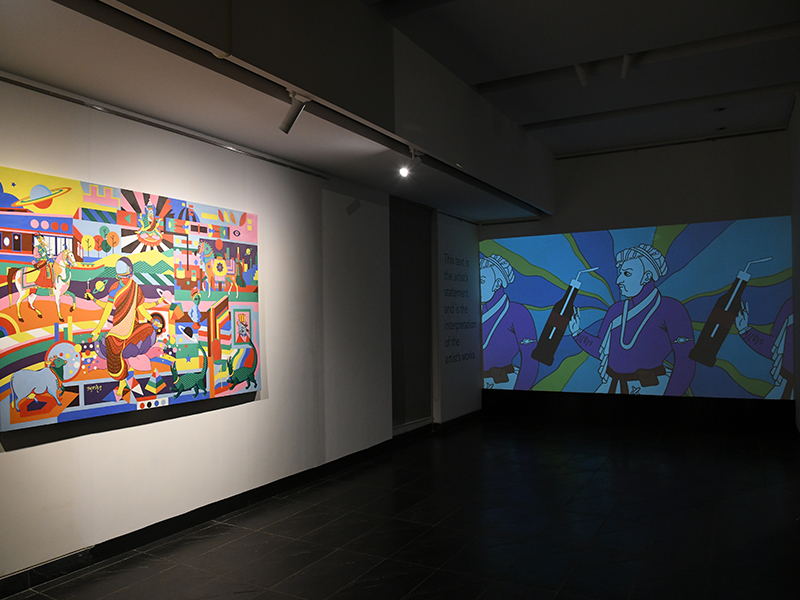 From going viral on Instagram with his-generated Ganesha sculptures to taking over the Bombay art scene, Jayesh Sachdev pushes the envelope of tech-enabling art shows in India. Sachdev incorporates AI and AR to add layers to a typical white cube experience. All you need is a smartphone and a bottle of coke to cheer your way through Sachdev's new show 'Utopian Dystopia' world at Tao Art Gallery.