Darth Vader To The Mokuren Chandelier: Lladró's New Flagship Store In Delhi Displays Exceptional One-Of-A-Kind Pieces
11

Oct

'23

12:58 pm

by

Schenelle Dsouza
In September, Spanish decor brand Lladró celebrated its 70th anniversary with the opening of its brand-new boutique store in New Delhi. Apart from Delhi, Lladró has stores across Gurugram, Mumbai, Bangalore, Hyderabad, Chennai and Kolkata, making India its third-largest market globally. The inauguration of the flagship store on MG Road strengthens the brand's presence from Valencia to India, which dates back almost 23 years.
Spread across 475-square metres, the three-story boutique in Delhi is Lladró's second-largest store in the world. The store is designed as an open layout with soothing, pastel tones of sage, and peach to mirror the brand's design sensibilities; textured walls, and gold podiums add detail to the store. While the entire space was designed in-house, the furniture was sourced from Gurugram-based design studio – House of Vandana. The furniture pieces were chosen to complement the décor and design of the store, opting for soft, rounded furniture that fills the space without crowding the open layout.
The layout is quite similar to a museum wherein the pieces are organically displayed on glass shelves and podiums. There are catalogues available which help customers understand the brand's creative process, while a small kit placed on site helps them visualise their favourite pieces in different settings.
Lladró also has a dedicated VR section in the store that takes customers through the brand's creative process. Customers can take a virtual tour of the factory in Valencia— experiencing the process from start to finish.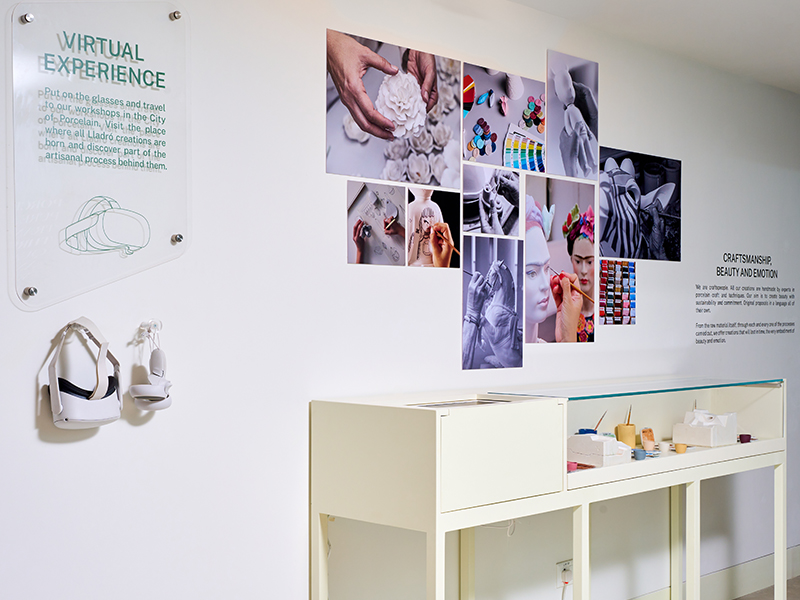 The different sections across the three floors in the store are dissected with curtains instead of walls which allows customers to effortlessly navigate their way through the store, from one floor to the next. Beginning on the ground floor, this section highlights the "New Concept" line's modern inventiveness including works produced in collaboration with worldwide artists and designers such as Jaime Hayon, Luca Nichetto, and Naoto Fukasawa.
As you move onto the second floor, you are greeted by heritage pieces from Lladró's celebrated "Spirit of India" series. This collection encapsulates the ideals and traits of Hindu iconography combining a wealth of detail, colours, and expression. The beauty of these artworks is that they are made with great precision and reverence. Apart from these pieces, another piece worth mentioning is the Darth Vader sculpture, one of the last in the series.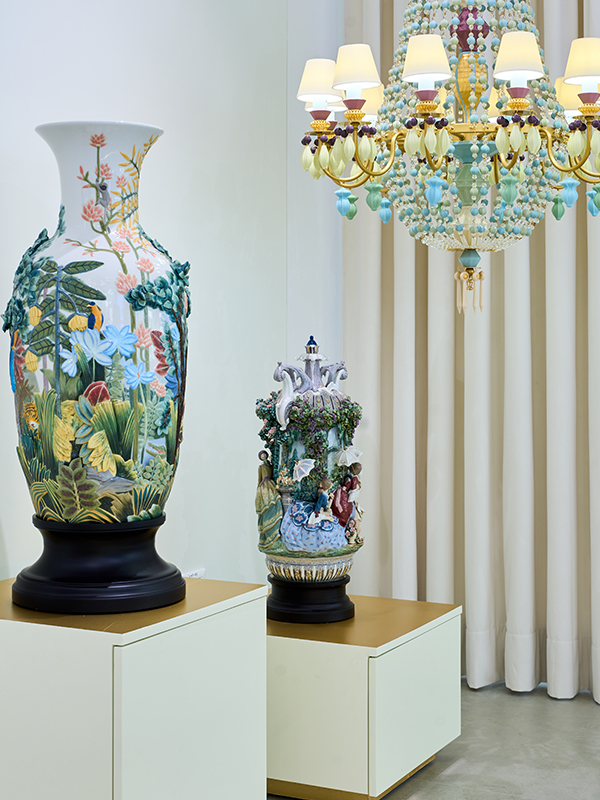 Lladró's "High Porcelain" collections are laid out beautifully on the third floor alongside a collection of "New Classics". Here one can find a selection of more contemporary products that are designed in a matte finish. There is also a vibrant selection of table and barware collections along with giftables in a white matte finish. The third floor also includes a bar counter space and a showroom that allows clients to visualise their pieces in a variety of different settings while enjoying a drink.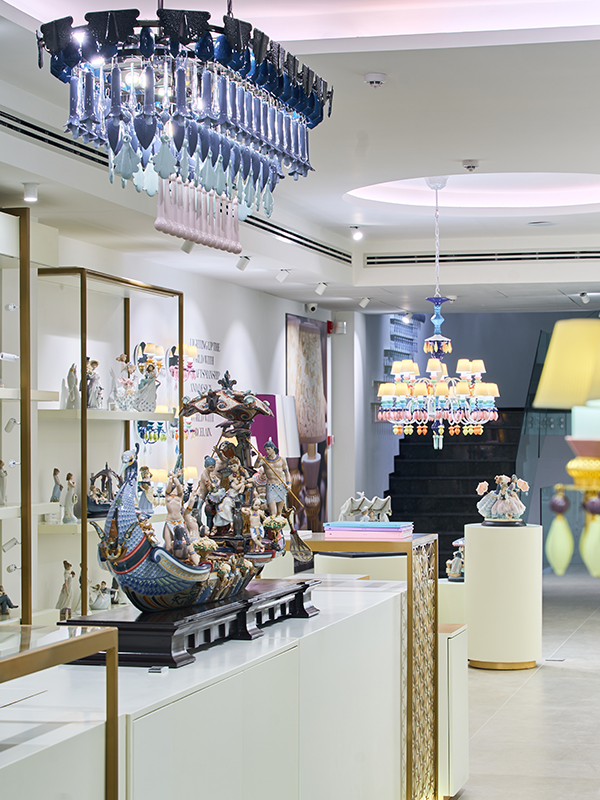 The collection of pieces displayed throughout the store are part of Lladró's popular themed collections which include bespoke chandeliers, mirrors, vases, and decorative sculptures to name a few. Some of the noteworthy pieces include the striped, black and white animal mask sculptures from the "Firece Potraits Collection", and the Queen of the Nile sculpture from the "High Porcelain Collection", to name a few. Cristina Egido, Global Marketing Director of Lladró, shares that the new Lladró boutique caters to different tastes and likings. "There is a Lladró for everybody, whether you like plain colours, something with a bit of pop, or even something bold. We have it."
Also Read: Unveiling Opulin: Your Destination For Luxury Home Accents In Delhi's Design District
The brand consistently collaborates with gifted artists and designers from all over the world to create one-of-a-kind pieces like the famous "The Guest" sculpture created by Spanish interior designer Jaime Hayon. This sculpture is a faceless character that acts as a blank canvas allowing prominent designers to use their design sensibilities to give it a face allowing each piece to tell a different story. Some of the artists that have collaborated on the sculpture include Gary Baseman, Tim Biskup, Camille Walala, Kzeng Jiang, Ricardo Cavolo, and Henn Kim among others.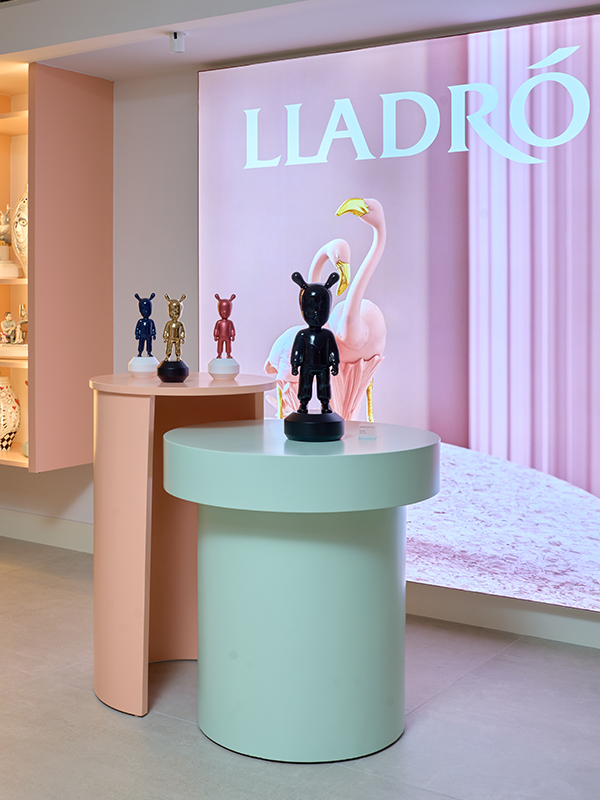 Most of the pieces displayed in the store are produced in limited numbers, meaning once they've run out of stock, they've really run out! Apart from the pieces on display, the store also has a few remarkable, one-of-a-kind pieces that are solely meant to be enjoyed. The custom-built Niagara Chandelier by Bodo Sperlein is one such example. Hanging from the fourth floor, the 15-foot-long chandelier was designed specifically for the Delhi store and is unfortunately not available for sale. Another striking piece is the award-winning Mokuren Chandelier designed by Japanese designer Naoto Fukasawa.
Also Read: Bay Window Comes To Hyderabad With Unmatched Luxury Home Decor And Contemporary Furniture
Lladró has been consistently reshaping the way we look at porcelain art. Going strong for over seventy years now, the brand has implemented its unique knowledge of porcelain art from its only factory in Valencia to create meticulously crafted porcelain pieces that have redefined elegant spaces. From enchanting sculptures to exquisite lighting solutions, the brand's exceptional pieces elevate home décor turning it into captivating pieces of art. Lladró's commitment to timeless elegance and sculptural artistry has made them a sought-after brand for those seeking to adorn their living spaces with unparalleled beauty and creativity.
*Design Pataki was part of a press trip to Lladró, New Delhi